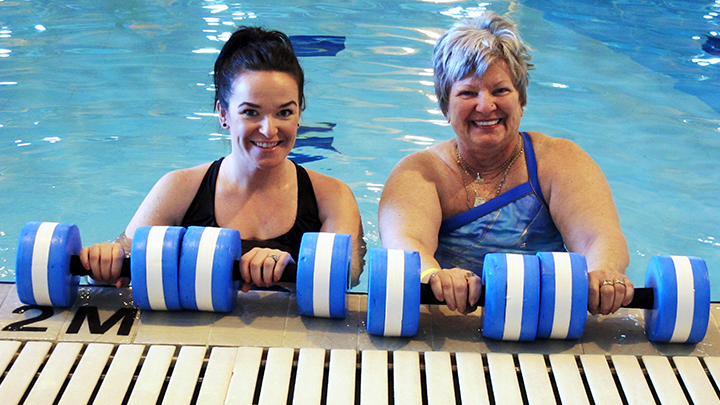 Aquatics Therapy program renews health and confidence as it reconnects patients with the joy of leisure
Story and photos by Lisa Squires
MEDICINE HAT — Reconnecting people who live with chronic conditions and disabilities with the joy of social and leisure activities is the aim of therapeutic recreation. With renewed health and confidence, they're soon ready to participate independently or move into a community program.
"As people age or experience loss related to their chronic condition, they may feel they can't do leisure anymore," says Belinda Hurlbert, Recreation Therapist, Alberta Health Services (AHS).
"There are many opportunities for people to reconnect with the things they used to love, including those activities they feel they can no longer do."

Quite literally making a social splash is Medicine Hat resident Patricia Phillips, 75, who takes Aquatics Therapy to strengthen muscles which were significantly weakened by breast cancer and a double mastectomy five years ago.
"I'm in very bad shape," admits Phillips, who heard of the aquatics program from a friend. "It's pretty devastating to admit you can't do the things you used to, and that you have to rely on others."
A retired nurse who spent 43 years taking care of others, Phillips says she knows how important physical activity is to healing and recovery, and hopes aquatics will improve her flexibility, mobility and energy.
Once a week, she spends an hour with a recreation therapist or therapy assistant at a community pool for warm-ups, stretches, water walking, resistance exercises, a cool down and deep breathing.
And Phillips — a self-described "water bug" — says she loves every moment.
"It's so much easier to exercise in the water," she says. "It uses every single joint in my body and it doesn't hurt — so I'm able to do more, longer. It's a very detailed workout. You don't even realize how hard you're working out until later."
Bringing out the joy in people also brings a smile to AHS Recreation Therapist Ashley Hunt. Scientifically speaking, exercise releases endorphins in the body, which helps to boost an individual's mood.
"Aquatic therapy is a natural painkiller," adds Hunt. "Clients often experience pain relief, relaxation, stress reduction and improved range of motion, as well as increased motivation and confidence in their ability to do things independently."
Hunt and Hurlbert are part of the Community Therapeutic Recreation program in Medicine Hat, which began in 2012. Three recreation therapists and a therapy assistant provide therapy to about 140 clients a year. Progress is tracked through before-and-after measurements.
"Sometimes, people need more support than just exercise," says Hurlbert. "If someone is showing signs of depression, we can do other testing, like the geriatric depression scale. Then we can add coping skills and relaxation techniques to their existing therapy, or we can help them connect with other supports."
By the end of her program, Phillips says she hopes she'll be strong enough to do her water exercises at home on dry land. Her confidence growing, and she's already noticed a difference.
"It's easier to get up and down the stairs," she says, adding that programs like aquatic therapy help people maintain their independence and stay in their own homes longer.
Aquatics Therapy Program
Aquatics Therapy is a 12-week program for adults 18 years and older.
Individuals can be referred by a physician, healthcare provider or can self-refer.
Participants undergo an assessment to make sure the program is a good fit (e.g., no health conditions that could impact participation, such as seizures, high blood pressure, physical limitations, etc.).
Participants are responsible for a small fee that covers the use of the community facility.
To learn more about Aquatic Therapy or the Community Therapeutic Recreation program, please call 403-502-8648, Ext. 1068.