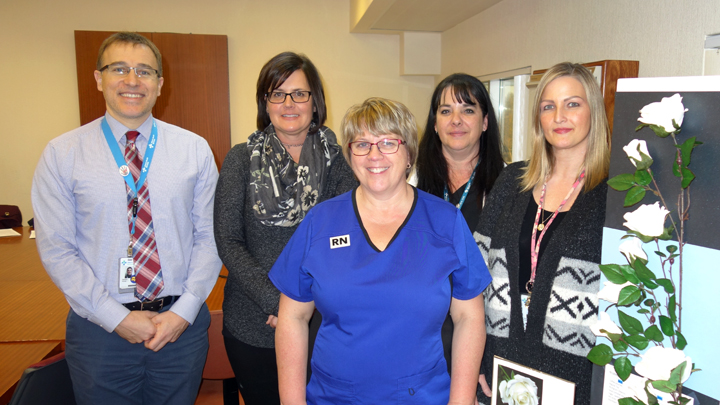 White Rose program brings compassionate care, resources to grieving families
Story by Erika Dart
GRANDE PRAIRIE — Losing someone you love is hard. Staff at the Queen Elizabeth II (QEII) Regional Hospital here know this all too well — and have put a program in place to make the good-bye a bit easier for families.
"The idea behind the White Rose program is to make people aware and compassionate of someone else's loss," says Cindy O'Flaherty, Clinical Coordinator/Educator for the Intensive Care Unit at the QEII. "We also need to acknowledge the loss of a life."
Hospitals can be busy, chatty places. Often people don't realize when a family nearby is going through a sad and difficult time.
"If there's a lit candle on the desk, it's to signify that there's a family going through the grieving process," says Teri Donald, Clinical Nurse Educator in Medicine at the QEII. "It's a reminder to keep conversations quiet and respectful."
In addition to the battery-operated candle, staff will also put an image of a white rose on the door of the patient's room. This lets staff members from other departments like Diagnostic Imaging or Environmental Services to leave the room in peace, that scheduled tests or cleaning may no longer be needed.
"We work hard to make our patients better and get them home. But when we can't do that, how can we be more compassionate for the family and be respectful at the end of this person's life?" says Donald, describing the philosophy behind the program.
The QEII White Rose program is inspired by information shared by the Red Deer Regional Hospital Intensive Care Unit, which has also been adopted at other Alberta Health Services (AHS) sites around the province.
The program brings practical comforts, including a 24-hour parking pass. A special 'Compassionate Cart' with snacks and coffee is available. As well, nurses have the materials to put together 'Comfort Bags' for families, which include including colouring books or toys for children and decks of cards or reading material for adults.

"It's just some compassion for the families, to allow them to stay at their loved one's bedside," adds O'Flaherty.
Previously, nurses did what they could on their own.
"One gentleman was here and he didn't even know how to go home and boil water; his wife had always done everything and now she was passing away," says Donald. "So I ended up giving him my supper because that's what we do."
Other times, staff bought their own cards of condolence to give to family members. Now, the White Rose program provides special cards for exactly that purpose.
The Grande Prairie Regional Hospital Foundation supports the program and also provides items for the comfort bags and the nutrition carts.
"The foundation works with the community and individuals to enhance patient care," says Dawn Veilleux-Miller, its Senior Development Officer. "However, it isn't very often that we get the chance to work with hospital staff to roll out a new program. We were excited to help with this one, particularly with its wonderful focus on family and patient-centred care."
The White Rose program also provides emotional comfort. The foundation has donated funds to provide special mementos, including lockets that hold a lock of hair or jewelry with the thumbprint of a loved one.
As well, an information folder is given for families to answer their questions about the next steps they need to take.
"It provides some resources for the family," says O'Flaherty. "If someone dies, especially in the Emergency Department, the family is not necessarily thinking about tomorrow. But tomorrow they might have questions."
The QEII is currently rolling out the White Rose program on two medical units, two surgical units, the ICU and ED. The pediatrics and labour and delivery departments have their own special programs.
"We wanted to do a better job looking after the families of our patients at the end of life," says Donald. "It's a simple program that can make such a big impact."
This program complements other palliative care resources already available in Grande Prairie and area, including two new nursing positions added in 2017 to bring palliative care services to patients who wish remain at home.