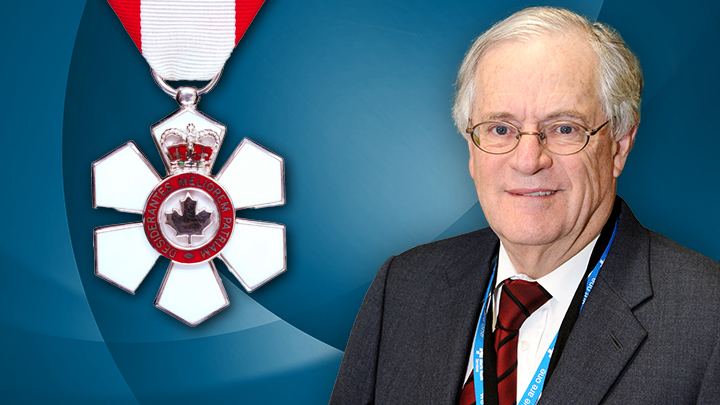 'Talented, dedicated and compassionate healthcare leaders making a difference'
Alberta Health Services board member Richard Dicerni is among four people within the organization who were recently announced as new appointments to the Order of Canada.
The 125 new appointments also include Dr. Eric Schloss, Dr. Thomas Feasby and Dr. Paul Armstrong.
"I have often said Alberta Health Services' greatest resource is our people, and the Order of Canada recognition is further evidence that our province is blessed to have talented, dedicated and compassionate healthcare leaders who are making a difference in the lives of people here and across the country," says Dr. Verna Yiu, President and CEO of Alberta Health Services.
Dicerni has served on the AHS Board since 2015. A respected bureaucrat and policy steward, Dicerni oversaw Alberta's public service, serving as Deputy Minister of Alberta's Executive Council, between 2014 and 2016. Prior to accepting his position on the AHS Board, Dicerni was Adjunct Research Professor at the Ivey Business School and sat on various boards. He's also held a number of executive positions in the federal public service.

Dr. Armstrong, appointed an Officer to the Order of Canada, has greatly contributed to advancements in cardiology, notably for his pioneering research in acute cardiac care at the Mazankowski Alberta Heart Institute in Edmonton.
Dr. Feasby, appointed a Member to the Order of Canada, has fostered excellence in the field of neuroscience at Foothills Medical Centre in Calgary, where he established a world-recognized stroke program.
Dr. Schloss, also appointed a Member to the Order of Canada, is known for his regional and international philanthropic initiatives and humanitarian work supporting healthcare and education. Dr. Schloss and his wife of 50 years, Elexis (herself appointed a Member to the Order of Canada in 2014), have been involved in programs supporting the homeless, children in poverty, abuse victims and Indigenous Peoples and immigrant communities in their hometown of Edmonton. They've also volunteered in Ghana, Ethiopia, Kenya, Haiti and Rwanda.
Order of Canada recipients will be invited to accept their insignia at a ceremony later this year.
The Order of Canada is one of Canada's highest civilian honours, recognizing outstanding achievement, dedication to the community and service to the nation.
Officers to the Order of Canada recognize national service or achievement; Members to the Order of Canada recognize contributions at the local or regional level, or in a special field of activity.