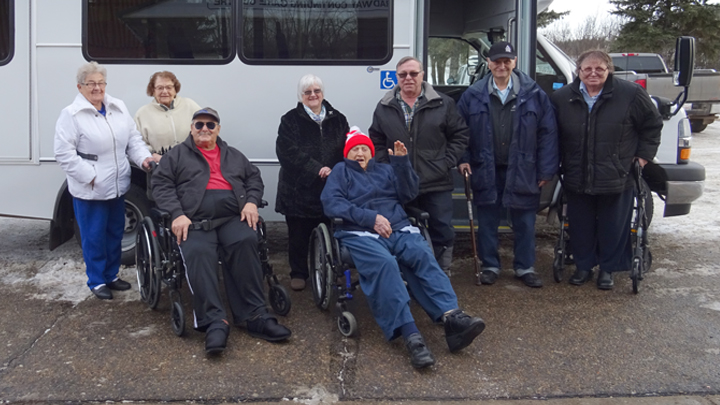 Community-funded shuttle keeps continuing care residents active and connected to their roots
Story by Amy Crofts
RADWAY — Having their very own shuttle bus this past year has made a world of difference for the residents at Alberta Health Service's Radway Continuing Care Centre.
"It rides smoother and we can take our wheelchairs," says resident Grace Gutek, 76. "We've been out in it more than in the old one."
To mark the first anniversary of the shuttle's arrival in December, residents embarked on a countryside Christmas lights tour, which they greatly enjoyed.
Roomier than the previous vehicle, a 1997 model, the new bus allows for six regular seats plus four wheelchair spaces. It's used regularly to transport residents to activities and appointments, including dental check-ups, eye exams, X-rays and specialist appointments.
Jennifer Felitsyn, a former recreation therapist with AHS and a Radway Health Centre Auxiliary member, spearheaded the fundraising efforts for the bus in 2015. Her intention was to allow residents to continue to be involved and participate in activities in the communities they helped to build.
"Since we're located in a rural area, we're isolated to a certain extent," says Enid Desroches, a recreation therapy assistant at Radway Continuing Care Centre. "Having the bus keeps us connected to other communities. We schedule regular visits and excursions, based on Resident Council requests."
Recent trips have taken residents to Smoky Lake for a floor curling match with residents of the Smoky Lake Continuing Care Centre as well as the Ukrainian Cultural Heritage Village in Tofield, the Canadian Tractor Museum in Westlock and IMAX Theatre in Edmonton.
"The residents love getting out. It's made a significant impact on their quality of life," says Chelsey Labatiuk, a recreation therapist with the Radway Continuing Care Centre and Athabasca Long Term Care.
The shuttle bus is the result of a year of fundraising which saw residents, family members, staff and community members, along with the Auxiliary, raise $54,000. Fundraising events included a Fill the Bus bottle drive, dinner, silent auction and show. The Community Initiatives Program Grant provided matching funds to support the vehicle purchase.
"The arrival of the new bus was highly anticipated as it gives our residents the opportunity to stay active and engaged in the community," says Irene Yurkiw, President of the Radway Health Centre Auxiliary.
"We'd like to thank community members for coming together in support of our Continuing Care residents, as well as the hard work, dedication and generosity of our staff for bringing this project to fruition."