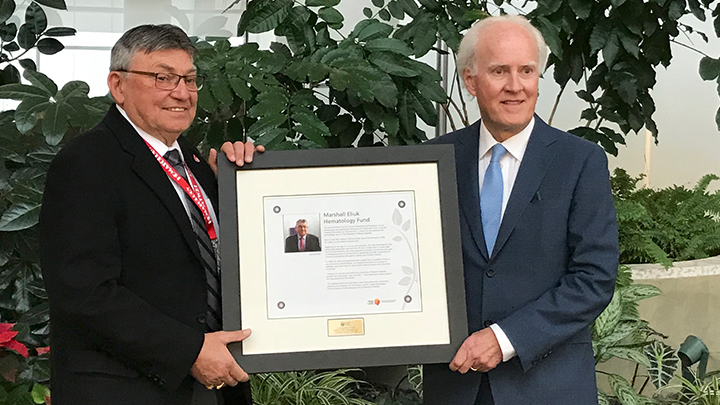 Hematology patient says thanks with $3M gift to University of Alberta Hospital
Story and photo by Sharman Hnatiuk
When Marshall Eliuk looks back on his nine months of treatment in 1999 for a severe form of aplastic anemia, a rare and serious blood disease, what he remembers today is all the platelet transfusions.
On top of all those platelets, the entrepreneur from the Peace River region also required frequent red blood cell transfusions plus immunosuppressive drug therapy at the University of Alberta Hospital (UAH).
"My doctors at the UAH gave me no guarantees," says Eliuk, now 77. "Fortunately, by the end of my treatment, my blood count had returned to normal. They called my recovery a miracle."
Out of profound gratitude for the care he received at the UAH, Eliuk is donating $3 million to the University Hospital Foundation to fund research and innovation, and to improve patient care within the hematology program.
The newly renamed Marshall Eliuk Hematology Unit at the UAH will feature a family room where patients, family and friends can gather in privacy, or discuss care with their healthcare team. As many patients require extended stays on the unit, this quiet space will improve the patient and family experience.
The family room, now under construction, should be open for patients and families this spring.
The Marshall Eliuk Fund for Clinical Innovation and Exemplary Care in Hematology will help the UAH's hematology team attract and retain top specialists and support research to bring scientific discoveries from the lab bench to the bedside sooner.
"We are so grateful for Mr. Eliuk's extraordinary gift to our program," says Dr. Loree Larratt, clinical hematologist at the UAH. "The creation of a family room will improve the patient experience on our unit, while the fund will expand education and training opportunities for healthcare staff on new technologies and treatments, as well as support the development of programs to advance patients' care and education."
Eliuk remains a patient of the hematology program which monitors his health.
The UAH hematology program manages about 500 patients a year from across western and northern Canada for a variety of hematological diseases, including leukemia, lymphomas and a variety of bone marrow-failure disorders including aplastic anemia. The program also manages patients with bleeding disorders including hemophilia, complicated clotting problems and hemoglobin disorders like sickle cell disease.
Patients on the hematology unit at the UAH receive a variety of services, including chemotherapy treatments, intravenous (IV) infusions, iron infusions and blood transfusions.The program works in partnership with the Cross Cancer Institute to manage blood-cancer patients at both sites including bone marrow transplant patients.