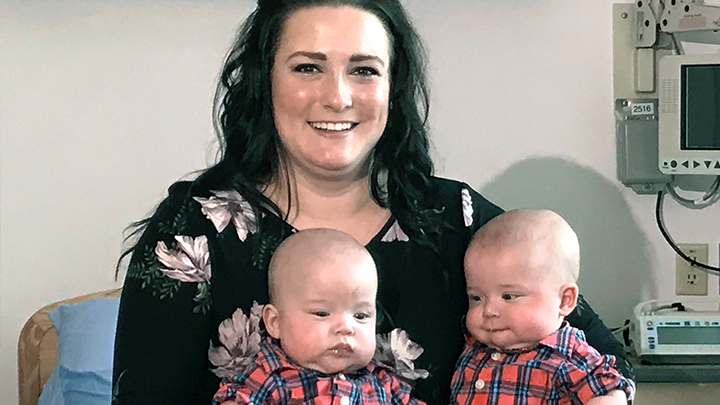 Strengthened services to bring extra reassurance for families
Story by Shelly Willsey | Photo by Sharman Hnatiuk
Care just got a little bit closer to home for St. Albert's tiniest citizens.
On Jan. 15, Health Minister Sarah Hoffman announced funding for a neonatal intensive care unit (NICU) in St. Albert's Sturgeon Community Hospital (SCH).
The six-unit NICU will meet growing demands on the SCH, which is expected to surpass 3,000 deliveries this year. Babies requiring higher levels of care are currently sent to one of four NICUs at Edmonton hospitals.
"Having an NICU close to home means one less thing for expecting families to worry about. As St. Albert continues to grow, our government is strengthening services families count on," says Minister Hoffman.
The $2.3-million investment will include an open NICU pod with four beds, two private NICU beds, a secure medication room and nursing station, and a large family washroom.
When Amber Kent went into labour and delivered twin boys at the SCH this past summer, she knew that her babies were coming too soon. At just over 28 weeks gestation, the twins required specialized care, and were immediately transferred to the NICU at the Royal Alexandra Hospital in nearby Edmonton.
Kent says having an NICU at the SCH will be a huge relief for local families.
"It's going to be amazing. It'll give the moms and their families just that extra reassurance that if something does go wrong, the resources are here for the nurses to be able to take care of their babies and to keep them close," says Kent.
Kent's boys, Caellum and Bodie, are now six months old and doing well.
"We are working to ensure mothers and their babies have access to the right care in the right place," says Dr. Verna Yiu, President and CEO of Alberta Health Services. "The new NICU will mean Alberta's youngest and most vulnerable patients can stay in their home community and close to family."
The NICU will work under the expertise of the Stollery Children's Hospital and will be equipped through $2.5 million in donations from the Stollery Children's Hospital Foundation.
"We know that children have better health outcomes when they're treated closer to home," says Mike House, president and CEO, Stollery Children's Hospital Foundation. "Our commitment to invest $2.5 million in specialized equipment and family-centred care at the Sturgeon's new NICU is another example of how our proud donors are supporting the most advanced children's health care to help kids and their families — right in their own backyard,"
Funding for the project comes from the Infrastructure Maintenance Program, a three-year rolling plan to help AHS address maintenance needs throughout the province.
The Sturgeon Community Hospital's NICU is expected to open in mid-2019.