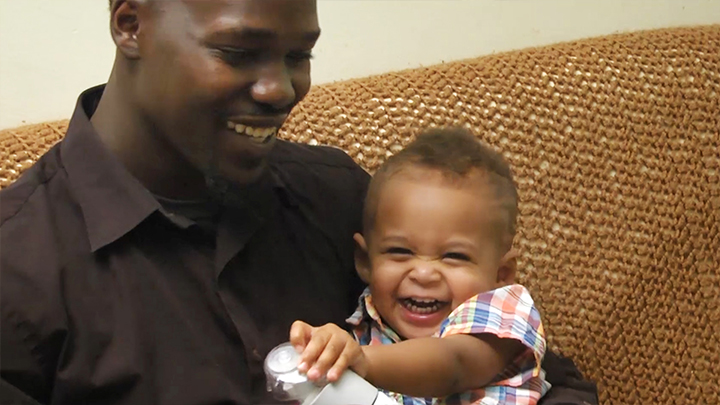 AHS ID program is changing lives for the better
Story by Shelley Rattray
CALGARY — In 2013, Larry Olek was living life on the streets. He was alone, suffering from mental illness, homeless and jobless. Olek's life was difficult until the fateful day he was admitted to the Sheldon Chumir Health Care Centre. It was a day that would change his life forever.
On Dec. 18, 2013, Olek was introduced to staff at the Alberta Health Services ID program. Then a pilot project, staff helped Olek obtain Government-issued identification, which he had previously struggled for years to obtain. This ID gave Olek a new lease on life.
"It gave me my life back," says Olek, who was able to get follow-up medical care, housing and employment thanks to the ID program.
Without it, "I don't think I would have anything at all. I would probably be on the streets still."
Now Olek, along with his wife Amanda, enjoys a full life, living and working in Calgary, as they raise their young son, Malu. When not busy with his full- and part-time jobs, he and his family manage to take many trips around Canada and the United States. His next dream is to travel to Africa to visit his grandparents, whom he hasn't seen in 18 years.
Olek is just one of more than 6,000 clients who have received support from the ID Program — which began after AHS health providers identified that the lack of identification was a major barrier when discharging clients from services.
To address this need, Human Services, Service Alberta, Alberta Health and the Solicitor General's office worked with AHS to develop and implement the AHS ID Program to help at-risk or recently housed Albertans who enter care without Alberta Identification or Alberta Personal Health Cards.
This includes clients in AHS facilities and clients supported by AHS Community Programs and Services — including those released from a number of Alberta Correctional and Remand Centres, who are receiving assistance from the AHS Corrections Transition and Diversion Teams.
While other provincial healthcare systems also assist their clients with ID, what sets the AHS ID Program apart is its ability to assist clients using alternate channels. This means connecting with provincial and national systems, who have agreed to collaborate with the program, who then confirm client-provided information, foregoing the need in most cases to obtain a birth certificate. This is a huge time-saver for a client waiting to be transferred to a more appropriate level of care. Where once it would have taken up to six to eight months to confirm their legal presence in Canada, required to obtain ID, through the program's collaboration with Immigration, Refugees and Citizenship Canada, confirmation is received within 72 hours.
To date, the program has been implemented in Calgary, Edmonton, Lethbridge, Medicine Hat and Grande Prairie.
"This program is really changing lives," says Celina Dolan, Manager of Housing Initiatives and the AHS ID Program.
"We knew there was a need to help individuals obtain identification based on the feedback we received from staff when attempting to discharge patients, but until we started the program, we didn't really realize what a true difference it would make."
The program has empowered clients with a sense of identity as it helps them with their basic needs such as housing, access to homeless shelters, food banks and food hampers. It also provides them with financial independence by helping them open bank accounts and, subsequently, the ability to gain employment or additional social services if needed, says Dolan.
"I think the biggest gain we see with the program is that it can improve clients' health. They are able to access follow-up appointments, community supports, home care, prescriptions, methadone treatment, mental health services and treatment," adds Dolan.
As for Olek, he says, "the future is bright."
To find out more about the ID program and see a video of Olek's story, please visit AHS.