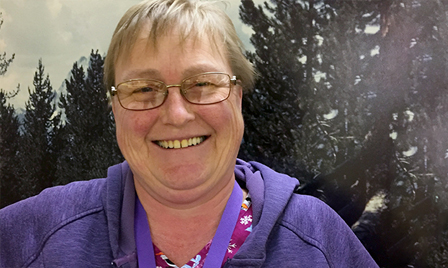 Personal care assistance supports care in the community, aging in place
Story by Amy Crofts
SWAN HILLS — No two days ever look quite the same for Colleen Feduniak.
On this particular morning, she helps a senior client get dressed for the day. In the afternoon, she sits with a homebound client in her 30s, as she enjoys lunch and they catch up on each other's weekend events.
"I find the work very rewarding," she says. "And I love meeting new people; I love being social."
Feduniak, who started last November, is a home support aide with Alberta Health Services' (AHS) Home Care — and the first to be based out of Swan Hills. Previously, the community was served by aides based in Barrhead.
She's trained as a health care aide to offer home support, which ranges from personal care — such as medication assistance, bathing, dressing, light exercise, feeding and meals — as well as provide companionship and respite support.
The goal is to keep clients in their homes for as long as possible.
"It's a common misconception that receiving home care means you won't be able to stay in your home. In fact, it's the opposite," says Feduniak. "We know that the best place for most people to be is in their home, where they are most comfortable and where they have their community supports are in place. We're here to help with that."
As well as their home support aide, clients and their families also work with a case manager to identify their needs and to determine what type of home support may be required.
"We want to support them in whatever way they wish," says Frances Priest, AHS Home Care team lead in Barrhead. "The client and their family are the main directors of care, and therefore an important part of care planning."
Feduniak previously worked at a long-term care facility in Barrhead, but welcomed the opportunity to move her family to Swan Hills, a town close to their hearts.
"My husband wanted to come back to the community he loves," she says. "And sometimes a change is a good as a rest."
Outside of work, Feduniak enjoys spending time with her six-year-old daughter Willow. She also loves to golf, camp and go for walks in the summer — and enjoys to cross-stitch and play cards with family and friends.
"Colleen is open, friendly and has great experience as a home support aide," says Priest. "We're thrilled to have her, and to be able to continue to provide this care in the community."
Individuals who would like to book a home-care assessment should contact case manager Nancy Starman at 780-674-4139.