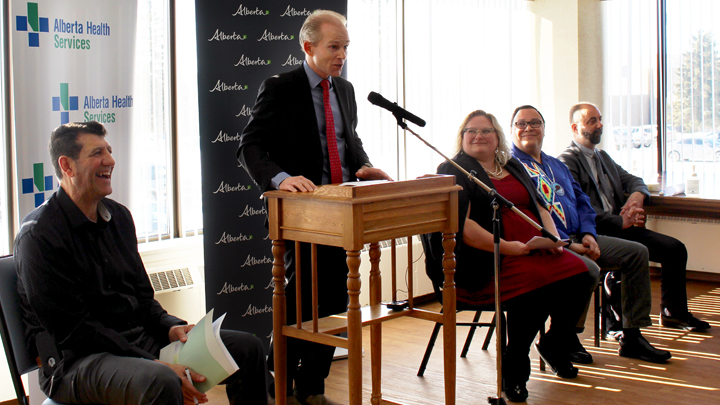 New space brings treatment closer to home
Story & photo by Amy Crofts
LAC LA BICHE — Residents living in Lac La Biche and surrounding areas now have access to improved dialysis treatment with the opening of a new, permanent renal dialysis unit at Alberta Health Services' (AHS) William J. Cadzow – Lac La Biche Healthcare Centre.
A grand-opening event to formally recognize the launch of the unit took place on Feb. 22.
"The new unit represents a significant step up in the delivery of dialysis in the Lac La Biche area," says Evan Hendry, a former dialysis patient who received treatment on the mobile dialysis bus. He recently celebrated his one-year kidney transplant anniversary.
"With improvements in privacy and comfort for both the health-care team and patients, it provides a much greater space for this lifesaving service."
The new six-station unit, which expands patient capacity from to 12 from 10, opened to patients on Feb. 7.
The unit serves Albertans from Smoky Lake and Vilna to Wandering River and Athabasca. It will also serve patients from Beaver Lake Cree Nation, Heart Lake First Nation, the Kikino Metis Settlement, Buffalo Lake Metis Settlement and Whitefish (Goodfish) Lake First Nation.

"We listened to our patients and heard the needs of the community," says Dr. Kevin Worry, Medical Director for AHS North Zone. "This new unit will be a great addition to our hospital and will provide stable dialysis treatment now and in the future."
The new space provides more privacy and comfort to those who need it — even enabling patients to bring family and friends while they undergo the hours-long procedures — and ensures they continue to receive treatment close to home.
"Dialysis is a vital treatment that AHS and the Northern Alberta Renal Program (NARP) are committed to providing Albertans," says Dr. Verna Yiu, AHS president and CEO. "This unit would not be possible without the tremendous efforts of our patients, staff, the Lac La Biche community and the province."
Minister of Health Sarah Hoffman, David B. Hanson, MLA for Lac La Biche-St. Paul-Two Hills, Colin Piquette, MLA for Athabasca-Sturgeon-Redwater, Councillor Gary Lameman of Beaver Lake First Nation, representatives from Lac La Biche County, many staff, residents and family members were also in attendance.
"Beaver Lake Cree Nation is pleased to have this new dialysis unit in the region to not only serve our members, but also the surrounding communities," says Chief Germaine Anderson of Beaver Lake Cree Nation.
"The new unit will cut down the travel times and stresses associated with receiving care, and also enable family to be present and comfortable. This is a welcome addition to William J. Cadzow Healthcare Centre for all our relations."
Funding for the $2.4-million dialysis unit came from the government of Alberta's Infrastructure Maintenance Program.
With the new unit now operational, the mobile dialysis bus that was previously parked outside the healthcare centre will be decommissioned.