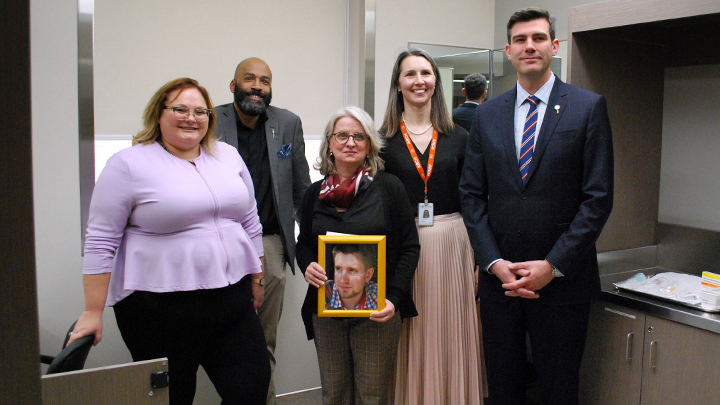 North America's first hospital-based service offers safety, lessens harm from substance use
Story & photo by Shelly Willsey
EDMONTON — North America's first hospital-based supervised consumption service is now open at Alberta Health Services' Royal Alexandra Hospital.
It provides a place where people can use drugs in a monitored, hygienic environment to reduce harm from substance use. At the Royal Alex (RAH), hospital inpatients will benefit from the lifesaving supports offered, including access to treatment and mental-health supports.
"People who need help with their substance use are more likely to get the help they need when they feel supported and cared for," says Dr. Verna Yiu, President and CEO of Alberta Health Services (AHS). "Supervised consumption services like the one at the Royal Alexandra Hospital are a compassionate, comprehensive, and collaborative form of evidence-based care and provide options when clients are ready for change."
Health Canada provided final approval to open the supervised consumption services unit in mid-March, and the service launched April 2.
The unit will be open for inpatients to visit 24 hours a day, seven days a week and can provide services for up to six patients at any given time. Nurses will be on hand to provide lifesaving services, including naloxone, in case of an overdose.
Patients will continue to have access to their doctor, counsellors, social workers and peer-support workers for additional services, including mental-health supports, social work and opioid-dependency treatment.
"Providing supervised consumption services for our inpatients ensures that individuals have access to evidence-based health interventions across the health-care spectrum," says Dr. Kathryn Dong, director of the Addiction Recovery and Community Health (ARCH) program at the RAH.
"Hospitals can be high-risk environments for people who use drugs. The service will help identify patients at risk, engage them into care and connect them to the Addiction Recovery and Community Health team, a multidisciplinary team focused on the treatment of substance-use disorders, health promotion and stabilization of the social determinants of health."
Evidence shows supervised consumption services save lives, reduce the transmission of infections by providing sterile needles and equipment, and enhance community safety by reducing public substance use and improperly discarded needles.
"It's important we do everything we can to support individuals and families affected by the opioid crisis," says Sarah Hoffman, Minister of Health.
"Supervised consumption sites provide a secure, supportive place for people who use substances, while also being connected with wraparound services such as counselling and treatment programs. The addition of this new lifesaving service at the Royal Alex not only means greater safety for patients; it also supports a safer hospital environment for staff and visitors."
AHS' Sheldon M. Chumir Health Centre in Calgary began offering supervised consumption services for its community in late October. The site had almost 6,900 client visits up to the end of February, and reversed 119 overdoses during this period of time.
Last year, 562 people in Alberta died of apparent fentanyl poisonings, including 135 people in Edmonton.