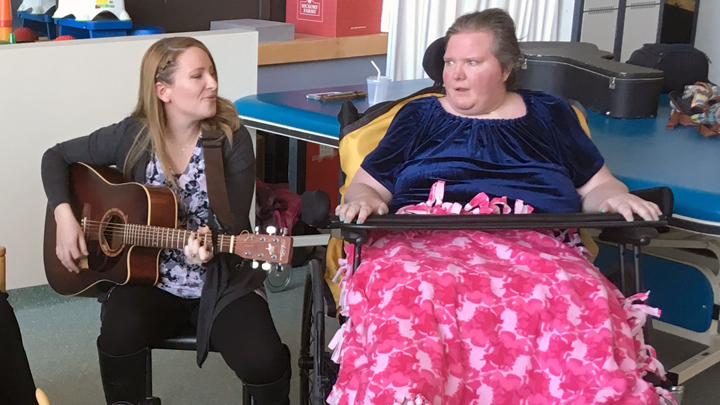 Gift of anonymous donor funds music program for two more years
Story & photo by Blain Fairbairn
CALGARY — When music therapist Samantha Harber starts a session at Foothills Medical Centre (FMC), some of her neurorehabilitation patients feel a bit leery. They're not quite sure what to expect, or what's expected of them, when they're invited to sit in a circle and pick an instrument as part of their recovery from stroke or traumatic brain injury.
One patient simply refuses to choose from the selection of triangles, maracas or other hand-percussion instruments. Another picks one, but hesitates when it comes to participating.
But the moment Harber strums her guitar and sings, the mood swiftly lightens. Within minutes, everyone is enthusiastically joining in on the tunes.
Their involvement, however, is more than mere entertainment or distraction — it's designed to aid their healing and recovery
The connection between music and rehabilitation takes many forms, but FMC physiatrist Dr. Stephanie Plamondon says she's particularly interested in improving patients' mood and allowing them to have greater success with other physical therapies.
"In stroke and brain injuries, there is a correlation between poor outcomes and depression," she says. "So any way we can improve mood should have an impact on their outcomes."
(Physiatry, also known as physical medicine and rehabilitation, is a branch of medicine that aims to enhance and restore functional ability and quality of life to those with physical impairments or disabilities.)
The music therapy program at FMC began as a 20-week pilot in collaboration with Calgary's JB Music Therapy in July 2016. It was recently extended for another two years thanks to an anonymous donor who contributed through the National Music Centre. As well as neurorehabilitation patients, the program also treats palliative and intensive care patients.
"The partners in this program have a shared belief that the music we use, and how we respond to it, is unique to everyone regardless of age, ability or health status," says Jennifer Buchanan, music therapist and founder of JB Music Therapy.
"We believe music therapy, a treatment based in science and research, and this collaboration will have a considerable impact on many members of our community, helping to restore their health and well-being."
Patient Laura Rutherford says the program has helped her achieve a sense of mental stillness that's essential to her recovery from Guillain-Barre syndrome, a rare disorder in which the immune system attacks the peripheral nervous system.
"I can stay in a good mood longer and not dwell on the negative I'm facing" she says.
"(When) I put Adele on and I use my yoga breathing that they offer here — I don't feel the pain – or as much."