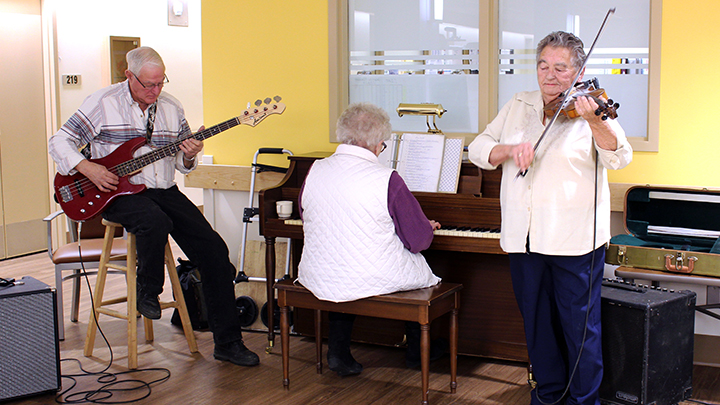 Beloved Grande Prairie musicians kept toes tapping for seniors, staff in continuing care
GRANDE PRAIRIE — For almost half a century the Lamplighters freely struck up the band to regale residents and staff at Mackenzie Place continuing care facility.
At a special celebration in their honour here this past January, the local musicians retired from their monthly visits — but not before performing a rousing final set of old-time dance music for their fans.
"It is with deep respect that Volunteer Resources honours these fine musicians today for their years of dedicated service," Sylvia Advent, interim volunteer coordinator, said at the event.
"I've watched residents, families, employees and volunteers enjoy these special times and reminisce of years gone by. I've watched residents get up and dance with recreation therapy staff."
Though only three current members of the band — Anne Trarback, Ethel Badger and Leslie Head — were available to perform that day, they still managed to inspire a bit of impromptu dancing. Former Lamplighters guitarist Hans Nagel also joined in for a few tunes.
"The music you played over the years was the best therapy anyone could ask for," said Ellen Helgason, senior recreation therapist at Mackenzie Place. "You played songs that made us happy, made us remember people, places and events we all have been part of — but more importantly, your music has kept us all dancing, singing along, clapping our hands and tapping our toes."
The group's original lineup comprised Anne Trarback, Dorothy Comeau and Phil Comeau. Players came and went over the years, but longtime members included Hans Nagel, Ethel Badger, Clement Bouchard, Ambrose Donison, Les Head and Del McCorriston.
The band began volunteering to play care centres and lodges in the mid-1970s. While Trarback's has racked up 900 documented volunteer hours, the actual total is likely much higher.
"When we started, my mother was in the auxiliary hospital and we thought it would be nice if we went in and played for them. It was supposed to be a one-time thing," Trarback says, then laughs.
Beyond Mackenzie Place, the Lamplighters also performed at dances, weddings and anniversaries as well as other lodges and care centres throughout the Peace Country. They also served as the house band for the Grande Prairie and District Golden Age Centre for some 40 years.
"Their reputation alone draws a crowd," Helgason says of the well-known troupe.
For Mackenzie Place residents, such as Jean Christopherson, performances by The Lamplighters have been a highlight.
"Everyone just looks so forward to seeing them come," she says. "They can get people going and bring them out of themselves. They bring happiness into the community."
Fellow resident Renate Dietrich agrees: "Music is a healer for the soul. Everybody loves music, everybody understands music."
For Lamplighters' bass player Leslie Head, music has been his own form of therapy — and a way to give back.
"It's our way of community service and contributing to the community," he says.
While the Lamplighters will no longer perform regularly at Mackenzie Place, they'll still drop in from time to time for special events.
Music, meanwhile, will continue to play a valuable role in its recreational therapy.
"We're always putting that call out for anyone who wants to come and perform," says Helgason.