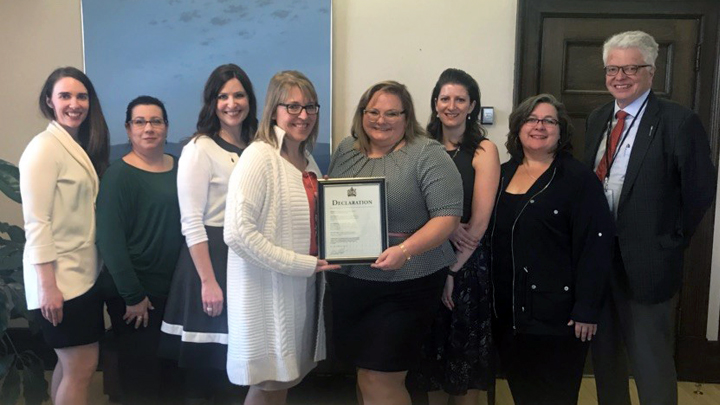 Health Minister Hoffman proclaims Oncology Nursing Day in province
Story by Kristin Whitworth
EDMONTON — The nurses who provide care, comfort and compassion for cancer patients were recognized with a special honour earlier this month when Health Minister Sarah Hoffman proclaimed Oncology Nursing Day in Alberta on April 3.
Ten Alberta oncology nurses attended the proclamation as Hoffman's invited guests, and were also introduced to MLAs and others present in the Alberta Legislature.
Leading the charge to win recognition for their amazing work was Dr Linda Watson, Lead, Person-Centred Care Integration, Provincial Practices, CancerControl Alberta for Alberta Health Services (AHS).
"In my role as President of the Canadian Association of Oncology Nurses (CANO) — and as part of CANO's efforts to increase awareness of the incredible role oncology nurses play in our national healthcare system — we approached each provincial ministry of health to secure a provincial proclamation regarding April 3 being recognized as Oncology Nursing Day," says Dr. Watson.
The proclamation celebrates a cross-section of oncology nurses with diverse roles and care populations including: pediatric oncology nurses, adult oncology nurses, nurse practitioners, educators, administrators, student nurses and researchers from the U of A.
The declaration recognizes that oncology nurses "bring great care and attention to everything they do and to everyone they help in the cancer journey," says Nancy Guebert, Senior Operating Officer with CancerControl Alberta, AHS.
The declaration reads: "Oncology nurses provide unwavering support, compassion and care for cancer patients… and work to help patient and families achieve optimal quality of life in all aspects of their cancer experience, including the physical, psychosocial and spiritual domain."
"It was such a great experience for all of us," adds Dr. Watson. "It's something we'll remember and celebrate on the first Tuesday of April every year."