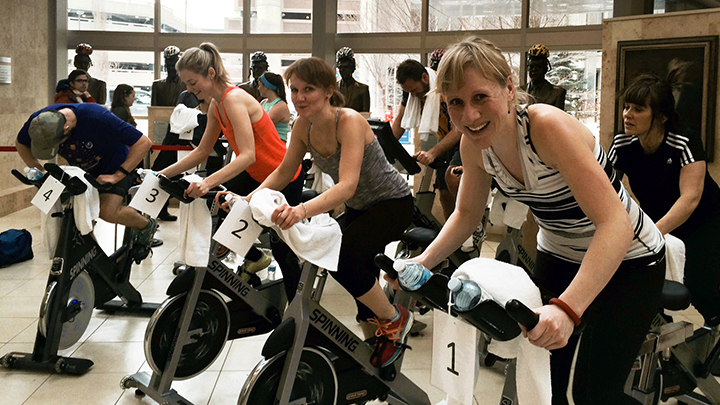 Mishaela Houle shares why donating to the University Hospital Foundation improves the care her team delivers daily
Story by Amelia Schofield
EDMONTON — For Mishaela Houle, donating to the University Hospital Foundation has become a meaningful way of supporting what she's most passionate about — patient care.
As the Executive Director, Cardiac Sciences for the Edmonton Zone of Alberta Health Services (AHS), she oversees strategic planning and setting direction for cardiac services at both the Mazankowski Alberta Heart Institute and the CK Hui Heart Centre.
Mishaela works closely with many community partners in her role, including the University Hospital Foundation. As Mishaela learned more about the impact of the foundation, this working relationship quickly evolved to one of giving back.
"When I came into this role, I always understood the foundation was important but I actually didn't have a really good understanding of how important. As I started becoming more comfortable in my role, I truly realized the impact that philanthropy has on care," she says.
"It really is how we maintain innovation and how we get a lot of our new programming in place on a pilot basis. It was with that level of understanding, that it became my priority to donate."
As committed donors of the University Hospital Foundation, both Mishaela and her husband Jon have supported the cause in many ways — including individual donations, event participation and team fundraising. For Mishaela, it's about making the gift while also inspiring others to give.
"I choose to donate throughout the year, and I do that somewhat strategically," she says. "We have a couple of events that are key fundraising events and these are where I choose to make my gifts."
According to Mishaela, her drive to give back is motivated by making a difference for patients.
"I know where those dollars go and I know they have an impact on the care we deliver to patients. That's what's most important to me."
For those wanting to support a health foundation, Mishaela emphasizes the many resources individuals can access.
"There's a wealth of resources around you, including the foundations themselves, and AHS employees who can give you the answers you need. If it's really what you want to do, reach out to the people around you."
For more information on how to support the University Hospital Foundation, please visit GivetoUHF.ca. Visit ahs.ca/give for a full list of Alberta's health foundations.