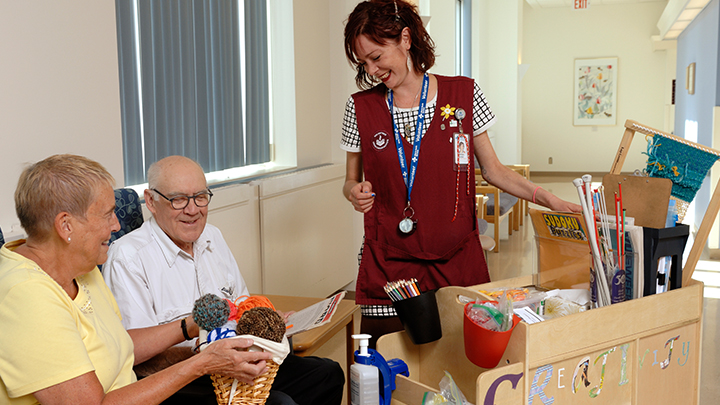 150th Commemorative Medal recognizes more than five decades of service
Story by Kristin Whitworth | Photo by Brian Brady
EDMONTON — Canada's Senate has recognized the devotion of the 370 volunteers at the Cross Cancer Institute (CCI), often described as the "heart" of the facility, for their 55 years of selfless service to patients and families in a wide variety of roles.
The Cross Cancer Institute Volunteer Association has been awarded the Senate of Canada's 150th Commemorative Medal — one of 1,500 being awarded to Canadians and organizations who have been deeply involved in their communities and whose generosity, dedication, volunteerism and hard work have made their community or region a better place to live.
The medals also mark the 150th anniversary of the Senate's first sitting, which took place on Nov. 6, 1867.
"It is difficult to think of a more worthy cause to acknowledge with this award than all of those dedicated volunteers who make the work of the Cross Cancer Institute Volunteer Association possible," says Sen. Betty E. Unger.
In a May 14 ceremony at Government House, Alberta's Lt.-Gov. Lois E. Mitchell joined Sen. Unger to make the presentation to representatives of the volunteer association.
"This is fantastic news and a great honour," says Paula Germann, CCI Site Director.
"I personally congratulate the volunteer association. The CCI is the excellent hospital that it is, with the great patient experiences it offers, thanks to the hours of contributions our volunteers make."
Learn more about the CCI Volunteer Association and AHS Volunteer Resources.