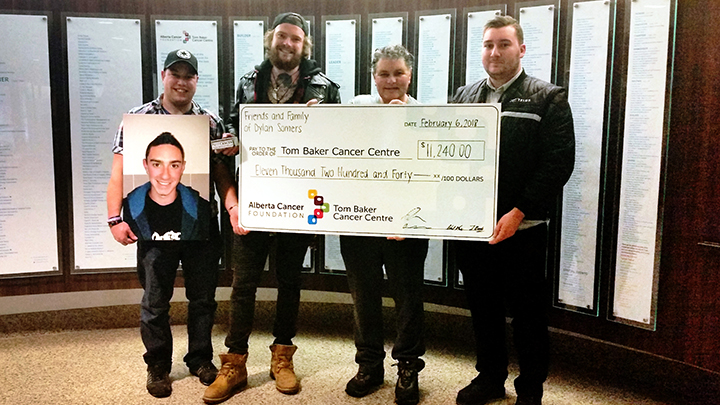 Friends of late Dylan Somers rally to raise money for research
Story by Kristin Whitworth
CALGARY — As a young boy, Richard Hendrickson never imagined he'd spend his adult years passionately raising money for cancer — and he never dreamed it would be in memory of his childhood best friend.
"Dylan made people smile," says Hendrickson. "It seemed like, everywhere he went, people wanted to know who he was, and why he always had the biggest smile on his face. He was just happy."
Born Oct. 25, 1993, in Vancouver, Dylan Parker Somers died from stomach cancer on Jan. 21, 2016, in Calgary.
"The world lost an amazing young man that day," says Dylan's mother Kate Somers. "He was surrounded by his many friends and family, rallying beside him as he fought hard to stay with us."
Since then, Dylan's friends and family have continued his fight as they rally together every year to raise money in his honour for cancer research.
"For the last two years we've held two fundraising events in January, and sold remembrance bracelets around the anniversary of Dylan's passing," says Hendrickson. "There's a baseball tournament held in his honour and a fundraising hockey game put on by the SAIT Trojans female team, which Dylan's sister Keely plays for."
With the two fundraisers and the hockey game, the small but mighty group amassed $11,240 for the Alberta Cancer Foundation, earmarked for the Tom Baker Cancer Centre research department.
This summer, on the weekend of July 20–22, the Thorncliffe/Greenview Adult Slo-Pitch League will host the Dylan Somers Memorial Slo-Pitch Tournament 2018 in Calgary. For more information, or to register your team, please email: kevind277@gmail.com.
"We hope to keep our fundraisers running every year," says Hendrickson. "We hold these events to celebrate and remember Dylan's life — and to raise money for cancer research so nobody has to lose someone as special as Dylan."
He reminisces of Dylan in junior high and high school, making friends with everyone he met, and his love of travel and passion for activity.
"Adventurous natures ran in all of us," Hendrickson says of his buddies. "The close group of us became basically inseparable. We did everything together."
"It was a complete shock for everyone when we lost Dylan, especially to his family. They remained his constant source of strength and support through it all."
In 22 short years, Dylan touched the lives of all who knew him. His quick wit and caring heart is what made him special — and still does to this day for those who loved him.
Proof positive arrived on March 22, 2018, when Hendrickson and his partner welcomed their first son into the world — Rohan Dylan Hendrickson.