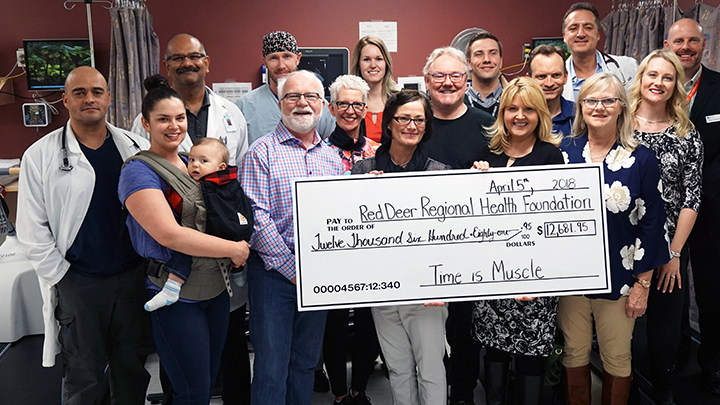 Time is Muscle campaign funds stress echo bike for Red Deer
Story & photo by Melissa Ballantyne
RED DEER — Cardiology patients will soon be able to put their mettle to the pedal on a new piece of equipment that provides more accurate and timely stress-test results at Red Deer Regional Hospital Centre (RDRHC).
Following the delivery of funds raised through the Time is Muscle fundraiser held last February, a stress echo bike has now been purchased for the hospital. The sleek two-wheeler is a first for Red Deer.
"This modified bike gives us a platform to have a patient reach a certain physiological state through inducing exercise," says George Belanger, cardiology unit manager at RDRHC. "The patient exercises in a stationary manner which allows us to conduct a stress echo test at the same time.
"This provides greater safety and stability for patients with mobility issues."
A stress echo test, also known as stress echocardiography, uses ultrasound to monitor how well a patient's heart and blood vessels are working before, during and after exercise. A stress echo bike allows the patient to exercise in either a supine or upright position, while electrodes attached to the chest also determine heart rate and cardiac rhythm.
Upwards of $12,000 was raised through the Time is Muscle event, which included dinner, entertainment and a silent auction. The amount fully covered the cost of the new equipment, which arrived recently.
"We were so pleased and thankful with the turnout and support we had from volunteers, local businesses and, of course, residents," says Vanessa Higgins-Nogareda, co-organizer of the fundraiser. "It's nice to know that the funds we raised are dedicated to Red Deer and area to help improve cardiac services."
Approximately 1,560 cardiac ultrasound tests are conducted in RDRHC's cardiology unit every year. That number is expected to grow by 200-300 with the addition of this new equipment.
Belanger notes that while the department's current stock of stationary bikes and treadmills work well for many diagnostic tests, they can be difficult in situations where ultrasounds are required.
"On the standard equipment, the patient moves a lot. The benefit of this new bike is its adjustable and we can easily move patients from flat to semi-upright positions. We can get their heart rate up higher, while exposing the regions we need access to for an ultrasound.
"It's another tool that allows us to better serve our patients in Central Zone."