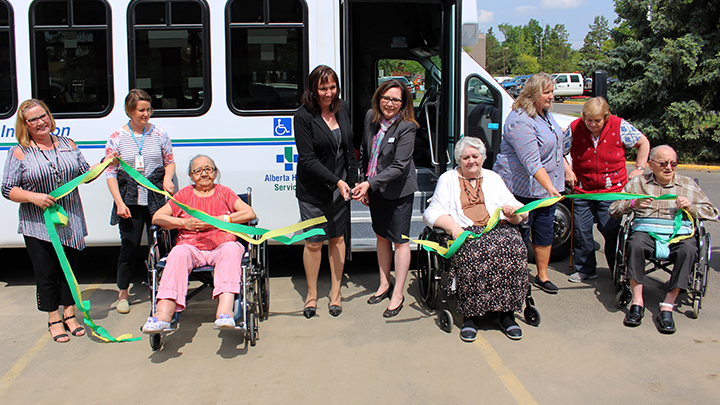 New bus lets seniors enjoy outings and greater sense of freedom
Story by Diana Rinne
GRANDE PRAIRIE — A drive through Peace Country to check on the progress of growing farm crops or to take in the greenery of the countryside is proving the perfect tonic for residents of Grande Prairie's Mackenzie Place, who now have a brand-new bus to enjoy thanks to the Grande Prairie Regional Hospital Foundation.

The bus was officially unveiled June 8 with a celebration and ribbon cutting at Mackenzie Place, an Alberta Health Services (AHS) supportive living centre here.
For Mackenzie Place resident Jean Christopherson, trips on the new bus — including an outing to the Grande Prairie Stompede — have been a highlight.
"It's been many years since I've been — we enjoyed it," she says with a smile.
The Foundation purchased the fully-accessible bus with funds raised by the annual Seven Generations Energy charity golf tournament. It arrived at the centre, attached to the Queen Elizabeth Hospital in early spring. It also gives lifts to participants of the AHS Adult Day Home program, located at Points West Living.

"I know that I speak for all of AHS staff, residents, and their families at Mackenzie Place and the Adult Day Program when I again say 'thank you' to the Grande Prairie Regional Hospital Foundation and Seven Generations for this donation," says Stacy Greening, Senior Operating Officer for Grande Prairie and Area for Alberta Health Services North Zone.
"The gift is much appreciated and it will have a very positive impact on the lives of our residents for years to come."
Residents travel outside of the care facility about three times a week, and up to five times a week during the busy summer and holiday seasons.
Visits to events such as the Stompede and Seniors Week activities are popular, as are simpler pleasures such as drives for coffee or an hour at the mall for shopping, just to name a few.
With its easy-ride suspension, the bus delivers a smooth experience as well as large windows for better viewing, easy-to-strap wheelchair ties for safety and comfort, and a mechanical lift for easy entry.
Geared toward giving a greater sense of freedom, active living and independence to its clients, the bus has been racking up the miles on its frequent travels throughout the community.
"Supporting the hospital and the Foundation with funding from our annual golf tournament has been a pleasure over the last five years," says Cindy Park, Director of Community Engagement for Seven Generations Energy.
"Any time industry can come together — to positively impact community needs — reveals the power of collaboration and caring."
For Christopherson, having the freedom to get out and enjoy activities in the community with her friends and neighbours at Mackenzie Place makes a huge difference in her daily routine.
"It's so great to see some of the people who don't get to get out very much enjoy things like this," she says. "The smiles on their faces are terrific."