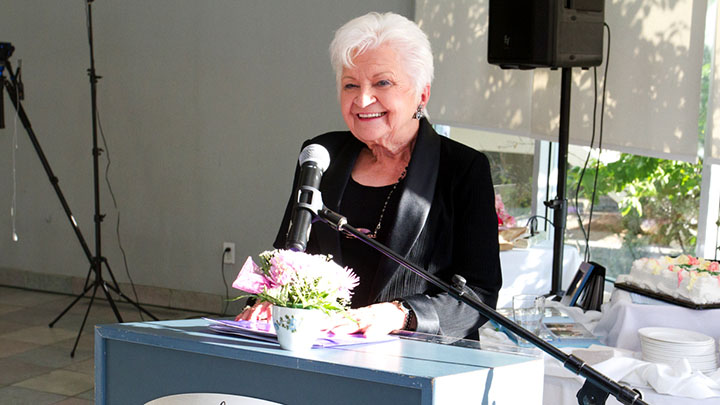 Royal Alexandra Hospital Foundation celebrates volunteer spirit of veteran booster
Story by Amelia Schofield
EDMONTON — As a businesswoman, retired politician and cancer survivor, Olivia Butti has dedicated more than 40 years of her life to support healthcare in Edmonton and across Alberta. By giving her time, talent and expertise to many health-related causes, she's made a meaningful and lasting difference in the lives of countless Albertans.
Growing up on a homestead in rural Alberta, Butti worked many hours helping on her family farm and supporting her father's business in the nearby town. Butti credits her strong work ethic and love for people to her early experiences and responsibilities.
At 18, she met her future husband Peter, and the couple had two children. While raising her kids at home, Butti kept active in her church and in the community. As her family grew, she worked outside the home to establish a successful advertising business. After forging many relationships throughout the Edmonton community, she pursued a career in politics, winning a seat on Edmonton City Council in the 1974 election.
Butti's life turned upside down two years later when she was diagnosed with breast cancer. She received treatment at the Royal Alexandra Hospital — an experience she says inspired her involvement in healthcare.
"Before my (mastectomy) operation, I remember praying to God: I know you have a plan for me and if you keep me alive, you'll never hear me say 'why me?'" says Butti. "I hoped I could make a difference."
Throughout Butti's diagnosis and treatment, she carried on as an Alderman on City Council, a body she served until 1986.
Following her experience at the Royal Alexandra Hospital, she became deeply involved in a number of health-related causes.
Her accomplishments to date span many areas of healthcare, and include a stint as an elected board member with Capital Health Authority, one of the predecessors of Alberta Health Services (AHS).
Foundations caught her eye and enthusiasm as well. She served as a board trustee and Festival of Trees chair with the University Hospital Foundation, and as a board member, Harvest Celebration committee member and campaign cabinet member with the Royal Alexandra Hospital Foundation.
According to Andrew Otway, President and CEO of the Royal Alexandra Hospital Foundation, Butti has brought tremendous value to the Foundation through her volunteerism.
"Through her political life, she's brought remarkable insight into governance best practices. She's really been a mentor to me and has supported my own growth as a leader," says Otway.
Butti also made her mark on cancer-related causes, where she shared her story as a spokesperson and dedicated her time to planning events. She's served as a member of the President's Advisory Council with the Canadian Breast Cancer Foundation and also as a founding committee member for the Canadian Cancer Society Relay for Life.
Over the years, Butti has garnered impressive awards for her service, including a Queen Elizabeth Diamond Jubilee Medal, a Government of Alberta Stars of Alberta Excellence in Volunteerism award and an Association of Fundraising Professionals National Philanthropy Day Award.
More recently, the Royal Alexandra Hospital Foundation sponsored a special event to celebrate Butti's 40 years of commitment to healthcare — and to mark her retirement from the Foundation's Board of Directors after 17 years.
"Olivia will always be part of our family at the Royal Alex and we're incredibly grateful for her contributions," adds Otway.

Despite the challenges Butti braved in her battle with cancer, she remains positive and committed to making a difference.
"I feel cancer gave me much more than it took away," she says. "I feel so blessed that I was in the right place at the right time, so many times, and I have no doubt that its God working through me to see good things happen."
Visit ahs.ca/give for a full list of Alberta's health foundations.