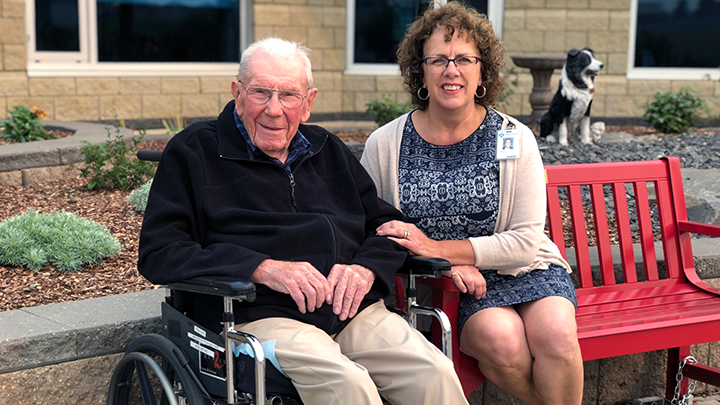 WestView hospice and long-term garden brings beauty, comfort and tranquility to residents and families
Story & photo by Vanessa Gomez
EDMONTON — When long-term care resident Peter Bass gazes out his window at Westview Health Centre, he's greeted with sweet views of a colourful garden, mature trees, bright red benches and shady gazebos.
It's all part of the Light Up Your Life Garden project, an uplifting initiative launched in spring 2017 as part of the 25th anniversary of the Light Up Your Life Tri-Community Palliative/Hospice Care Society (LUYL). Established in 1992, the Society works to raise financial support and awareness of palliative/hospice and continuing care by supporting the needs of patients, families and caregivers.
Patients and their families have been brought closer to nature, with a welcoming environment, thanks to the garden which has transformed the concrete landscape outside the Hospice windows into a beautiful and peaceful reflection of the beauty and serenity of nature.
"Hospice and Continuing Care patients and families have shared their delight and appreciation of the efforts of the Society to brighten their lives, and Society members have assumed the responsibility of caring for the garden to ensure that it becomes well established and healthy for many years to come", says Linda McCreath, LUYL Director. The garden is dedicated to all those who have called WestView Health Centre Hospice and Long Term Care Unit 'home'.
The LUYL Society successfully partnered with Kiwi Nurseries, the Rotary Club of Stony Plain, Stony Plain & District Health Centre Auxiliary, the Jodoin Foundation, the Realtors Foundation of Edmonton, the Korean Veterans Association, 100 Women Who Care, Cynthia Winfield and Beverley Churchill with the total cost of Phase I and Phase II of this special project at $35,000.00.
Bass has called WestView home for more than a year in his battle with Chronic Obstructive Pulmonary Disease, and greatly appreciates having a beautiful space to enjoy.
"When you're in one place for a long time, having something like this is really wonderful. It really helps," says Bass. "Before, it was so run-over with weeds, and now it's just so beautiful. I try to be outside as much as possible now."
Phase II of the garden was completed in August 2018 with the complete redesign and replanting of the raised perennial bed, revitalization of the existing four gazebos, the addition of three new red benches, and the installation of three large cement planters, to be used by Recreation Therapy and Continuing Care residents for their spring planting.
"The feedback we've received on our garden has been so positive," says McCreath. "We are proud of what the Society has accomplished in creating this garden, as well as the many other tangible ways we work to fulfil our mandate of supporting palliative/hospice and continuing care in the Tri-Community area.