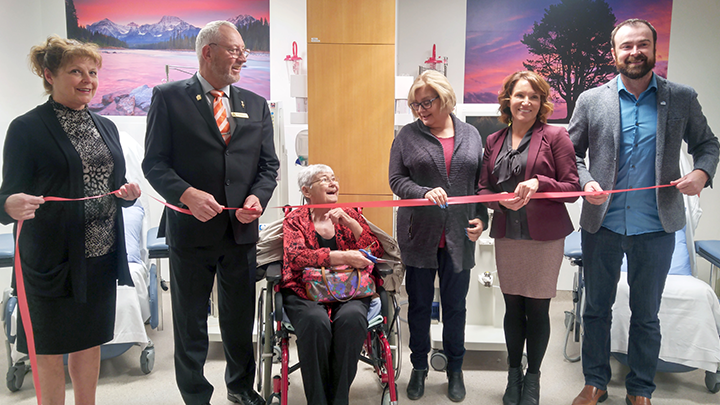 Permanent facility provides increased service and convenience
Story and photo by Amy Crofts
HINTON — Residents living in Hinton and surrounding areas now have improved access to hemodialysis services, with the grand opening of a new clinic at the Hinton Healthcare Centre.
Although patients were able to access clinic services in June, a formal ribbon-cutting ceremony marked its official opening on Sept. 18. In attendance were MLA for West Yellowhead Eric Rosendahl, Hinton Mayor Marcel Michaels, as well as dialysis patients and clinic staff.
And patients say it was worth celebrating.
"Being able to go into the hospital for treatment makes all the difference," says dialysis patient Ann Viau.
"It is much more convenient and reliable."
Previously, local renal patients received dialysis treatment on the Alberta Health Services' (AHS) Northern Alberta Renal Program's mobile dialysis bus, which would visit the community three times per week.
"The bus made dialysis treatment accessible for us and I am so grateful for that," Viau says of the former service.
But now, with three stations at the clinic, patient capacity will be increased to six per day from five per day, three days per week, with the potential for expansion to six days per week. The new treatment space is large enough to allow patients to bring family and friends while they undergo the hours-long procedures.
Dialysis is the process of cleansing the blood of toxins and excess fluid when normal kidney function is reduced. A patient's blood is filtered through a dialyzer and then returned to the body. Patients undergo dialysis in hospitals or community facilities three times a week, with each session typically lasting about four hours.
Health Minister Sarah Hoffman says the new clinic is a boon to renal patients from Hinton, Jasper and Grande Cache.
"I'm proud to be part of a government that listens and responds to the needs of communities," Hoffman says. "This new, permanent dialysis clinic means this life-saving treatment can be provided to more patients in a comfortable, reliable setting. This project is an example of the work we're doing to make life better for families in Hinton and surrounding areas."
And Dr. Verna Yiu, President and CEO of AHS, concurs.
"It's important to patients and their families, and to us, that they receive the best care possible close to home," says Yiu. "Having a permanent dialysis clinic inside the Hinton Healthcare Centre allows us to care for patients in a more comfortable environment. It also helps minimize any travel they may have to receive the care they need.
"It's great news for the community."