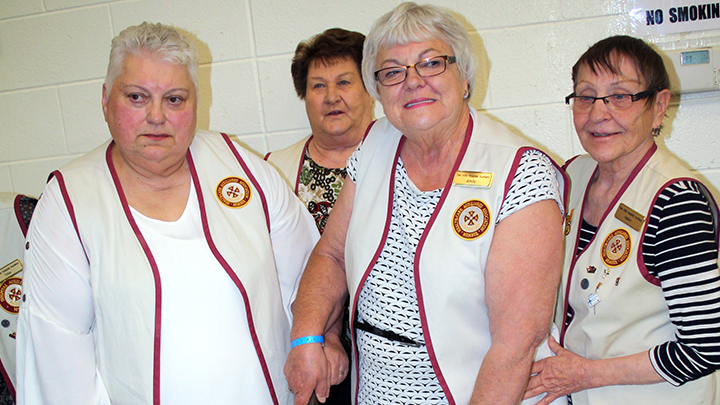 Two Hills Health Centre Auxiliary celebrates founding member Emily Lypka
Story by Amelia Schofield
TWO HILLS — Over the past 50 years, the volunteers of Two Hills Health Centre Auxiliary have dedicated countless hours fundraising for healthcare needs. While many have supported the Auxiliary over the years, the group credits one woman, in particular, for being its longtime champion.
Emily Lypka, alongside other community members, formed the Auxiliary in 1968. Since then, she's held many positions within the group — including president, treasurer and secretary — many times.
"Since we started, our biggest focus has been patient comfort," she says.
Over the course of Lypka's involvement, the Auxiliary has funded many patient-comfort initiatives at Two Hills Health Centre. More recently, this has included a multi-sensory device, a renovation to the facility's back yard for continuing care residents, furniture, blanket warmers, icemakers and thermometers.
According to Leona Ewanchuk, president of the Auxiliary, Lypka's involvement has been vital over the years.
"I've known Emily for many, many years and she's been instrumental in keeping the auxiliary together. Her heart is truly in the right place and she's always doing what's best for the patients."
Ewanchuk adds that Lypka is "a very sincere, hardworking person and very invested in what she's doing."
The Auxiliary's work has gone beyond funding equipment and renovations for the hospital. They've also worked closely with the recreation therapy team to provide special experiences for the continuing care residents.
"We made breakfast for the residents for many years, which everyone enjoyed. And on Mother's Day, we visit and bring in carnations. It's really about caregiving," says Lypka.
The group also hosts a tea for residents each year, supported through community donations.
To celebrate the Auxiliary's 50th year, members recently hosted an event for Health Centre staff and community members. The group also used the occasion to recognize and thank Lypka for her long service.
When asked what has motivated her involvement for so many years, Lypka's answer is simple.
"Volunteering for a healthcare facility is very rewarding. Providing a message of hope and love to all who are in distress of mind or body — and showing that we care."