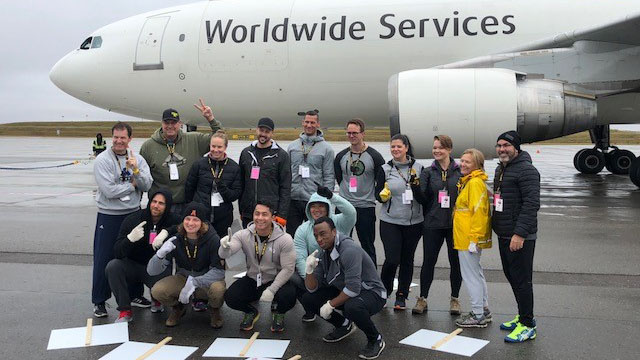 Team AHS places third overall in support of the United Way
A tenacious team from Alberta Health Services faced off in the ultimate match of tug-a-war with a 200,000 lb airbus in the seventh annual United Way Plane Pull on Sunday, September 16th at Calgary Airport.
The team of 15 members, including participants from Alberta Children's Hospital, Rockyview General Hospital and the South Health Campus competed with 44 other teams from various organizations across Calgary.
Team AHS were fifteenth to pull the plane and after their first pull were in third place, pulling the plane 50 feet in 22.38 seconds. The team sat patiently as they watched the remaining teams compete. After all the teams had competed AHS remained in third place.
The top 3 teams had to compete once again. The AHS team put in a significant effort, significantly improving their time and pulling the plane across the tarmac in 20.72 seconds for a combined total of just over 43 seconds landing them in third place overall.
"This was all about team work and working together to reach a goal," said Sean Chilton, Vice-President, Health Professions and Practice, who was there on the side line to cheer the team on.
"I'm so proud of the team for using the power of community to support such a great cause."
The AHS team raised over $1,500, surpassing their goal of $1,200 in support of the AHS Calgary Zone United Way campaign. In total, this year's Plane Pull raised just over $100,000 for the United Way of Calgary, which will be directed back into the community to help some of our city's most vulnerable populations.
"Being involved in the United Way campaign is a way of extending the AHS values to the people and communities around us, outside of my daily role within the organization," said Sophie Goodman, Surgical Suite, Minor Surgery and PACU, South Health Campus.
"It provides a unique and interesting opportunity to join others who share the goal to make a positive impact on others and their quality of life."
AHS' province wide-campaign officially kicks off on October 9. For more details on this year's United Way campaign, go to http://www.calgaryunitedway.org/