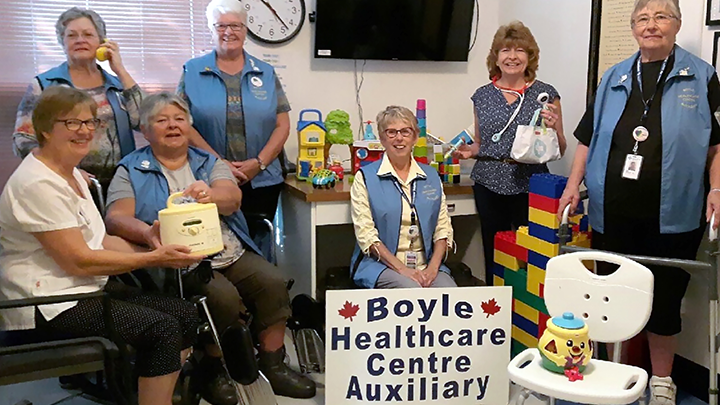 Waiting-room amenities, loaner equipment funded by healthcare auxiliary
Story by Logan Clow
BOYLE — New features, amenities and added comforts await patients and community users of Boyle Community Health Services — all thanks to the generosity of the Boyle Healthcare Centre Auxiliary.
The waiting room at the facility, located at 5004 Lakeview Road, now features a new television, interactive and educational children's toys as well as comfy new chairs.
"The waiting room just looks so much more appealing and welcoming now," says Linda Kuraitis, a public health nurse with Boyle Community Health Services. "The auxiliary's donations make the waiting room experience more comfortable, enjoyable and relaxing for parents and their children."
Three wheelchairs, two bath chairs and two walkers — also recently donated by the auxiliary — are among an array of healthcare equipment that's available for community members to sign out, as needed. For new mothers in Boyle, there's also a hospital-grade electric breast pump that can be signed out for two weeks at a time.
"Boyle Healthcare Centre Auxiliary members have been fundraising to improve the quality of care in their community for many years. We are very appreciative of their thoughtfulness, hard work and dedication," adds Kuraitis.
Since 2001, the auxiliary, which currently has 17 members, has raised more than $300,000 for much-needed healthcare items and supports, says Donna Larson, one of its three founding members.
"These donations enhance the experience and environment for patients and users, and provide a welcoming environment," she says.
"We're more than happy to support healthcare in our community. As healthcare needs grow in Boyle, the auxiliary will continue to do everything that it can to provide support."
For more information about what's available and how to access items, please contact the Community Health Services office at 780-689-2677.