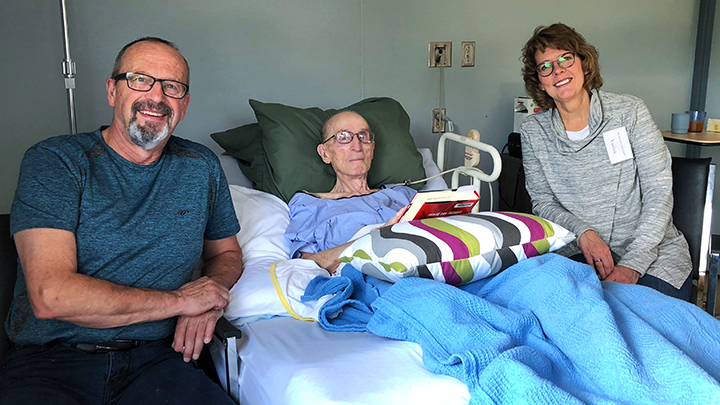 Rivercrest Care Centre's new beds means Fort Sask families can stay close
Story & photo by Vanessa Gomez
FORT SASKATCHEWAN — For families like those of hospice patient Bruce Orchard, the addition of six new hospice spaces at the Rivercrest Care Centre means they can stay in close touch.
Bruce, 89, moved into the centre in July and now lives just a block away from his son, Rod Orchard, and daughter-in-law, Alice.
"My family is so close and they have the opportunity to pop in whenever," Bruce says. "It's comfortable here."
The new ward features a nursing station, a lobby area for families and guests, and a side room where they can get some rest if needed.
Prior to the addition of the new hospice spaces — which began accepting patients in June — there was no palliative and end-of-life care in the community. Sites such as Westview, CapitalCare Norwood, Covenant Health's St. Joseph's, Edmonton General Continuing Care Centre and Covenant Care's Foyer Lacombe were available, but often not easily accessible for Fort Saskatchewan families. At times, patients had to remain in an acute care setting to receive their end-of-life care.
This most recent introduction of hospice care in Fort Saskatchewan is part of Alberta Health Services' (AHS) Enhancing Care in the Community initiative, which shifts the focus from providing care in hospitals to more community-based care.
"One of the big draws for establishing hospice care in Fort Saskatchewan was that bringing this specialized palliative/end-of-life care closer to home helps keep the community and families together," says Michelle Podmore, Director of Palliative/End of Life Care, Education and Community Programs with AHS. "It's an immense toll for families to be separated during this very sensitive time."
That toll is one Rod and Alice knew all too well when Rod's mother was placed in a facility in west Edmonton. The site was a 45-minute drive away, meaning the family did not get to see each other every day.
"It was a difficult journey and mom was a lot lonelier," says Rod, whose mother has since passed away. He admits to a sigh of relief that Bruce can reside in town. "I don't know how I would have managed if I had to drive back and forth to see my dad."
Podmore says continuous improvement in quality care includes obtaining survey feedback from families three months after their loved one has passed away at a hospice site.
"Their feedback is integral in shaping and enhancing hospice care in the community and shows us where we are excelling and where we can improve," Podmore says.

She signs all letters that go out to families and reads each one that is returned, making follow-up calls if necessary.
"These calls often take families back to those last few days, even hours of loss, and are emotional but they are reinforcements on why it is so important to 'get it right,' " she says.
As for the Orchard family, getting it right means they can stay in touch.
"When we see each other every day, you get to tell each other things that might have otherwise gone unsaid," says Alice. "Bruce seems very comfortable and happy and I consider us lucky to be here.
"This is the right place for him."