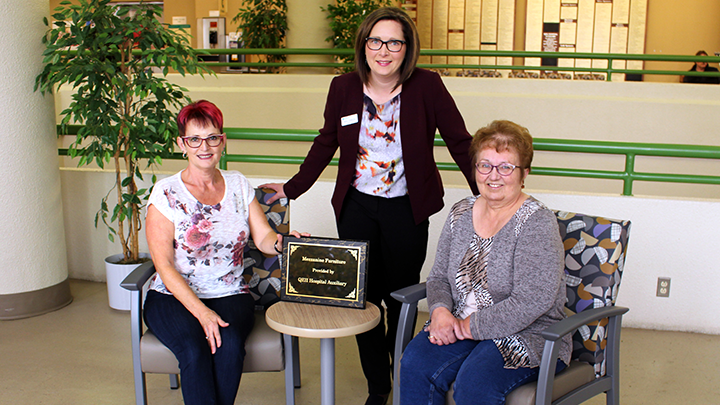 New mezzanine furniture, medical equipment improves patient experience
Story & photo by Sara Blake
GRANDE PRAIRIE — Patients and staff at the Queen Elizabeth II Hospital now have a more comfortable place to take a break, thanks to a thoughtful donation from the QEII Hospital Auxiliary.
To date this year, the auxiliary has donated about $90,000 to buy medical equipment and comfort items, including new furniture for the hospital's mezzanine.
"The mezzanine area near the main entrance is used by staff and patients alike," says Stacy Greening, Senior Operating Officer. "It's a nice open area for people to sit and relax while at the hospital. This beautiful new furniture will help staff, patients and their families by providing a comfortable spot to spend some time while they're here."
The auxiliary's volunteer members typically raise funds through bingos and casinos during the year, and through the gift shop, which is also run by the auxiliary. Other equipment donated this year includes a bone fridge to preserve bones for in bone-grafting surgery, and a non-invasive temporal artery thermometer, and more.
Wanda Johnson, auxiliary president, says her group works closely with Alberta Health Services (AHS) to determine what would make the most meaningful donation.
"Each year we work with the staff here at the hospital to identify where their greatest needs are — and where we can contribute to make the largest impact," says Johnson.
The QEII Hospital Auxiliary has been active in Grande Prairie since 1922, contributing more than $2 million over the decades. Many auxiliary members volunteer at the hospital in different capacities, while some bake cookies for cancer clinic patients. But their main goal is to raise money for things like this year's furniture donation, and other equipment to help improve healthcare as well as the hospital experience for all.
"We're very grateful for the auxiliary," says Greening. "Their hard work and continued contributions help to enhance what we do at the QEII Hospital."
Johnson has been with the auxiliary for four years, including almost three years as its vice-president, and only accepted the role of president this past May. She says the auxiliary is always looking for new members.
"It's a great way to get involved in our community, and it's gratifying to know that we are helping to ensure that patients in this region receive exemplary medical care," she says.

For more information, please call Johnson at 780-228-5018 — or the Hospital Gift Shop at 780-538-2770 — for more information on how to get involved or contribute to their good works.
AHS works with 51 registered health care auxiliaries across the province, as well as various other health foundations and trusts. These non-profit groups have a significant impact on health delivery in Alberta by funding vital needs, programs, renovations, research and education, which translates into positive health experiences for patients and their families.