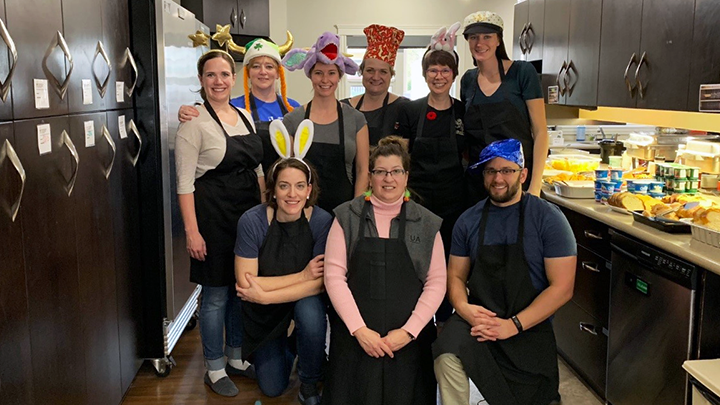 Pharmacy team steps up to serve families Meals that Mend at Ronald McDonald House
Story by Danielle O'Brien
EDMONTON — When it comes to making Sunday brunch for more than 40 families at Ronald McDonald House, the members of the Pharmacy Services' North Clinical Practice Leader (CPL) team love to roll up their sleeves, fire up the kitchen and whip up a feast.
Recently the team served up a mouth-watering spread: two types of French toast, oatmeal, scrambled eggs with toppings, fresh fruit, a charcuterie board, sausage and bacon.
It's all part of the Meals that Mend program, designed to provide comforting meals to families who are staying at Ronald McDonald House while their children receive treatment at Stollery Children's Hospital.
Margaret Gray, manager of the North CPL team, says her coworkers were motivated to support this particular charity due to their work in pediatrics.
"It was a natural fit for the team," says Gray. "We all live the patient-first mindset, but for us it was important to get out into the community and give back to the families of patients."
Meeting families and seeing their reactions made an impact on the group, says Kirsten George-Phillips, a CPL at the University of Alberta Hospital.
"It was a powerful experience to be there with the families during a difficult and emotional time," she says. "We sometimes forget how important simple things like somewhere to stay — and a comforting meal — can be to families."
Over the years, the CPL group has been involved with many charities, the Edmonton YWCA in Edmonton and Santas Anonymous.
"The great thing about volunteering together is that it always becomes an opportunity for team-building," says George-Phillips. "In helping others, we always walk away with a greater appreciation and understanding of each other."
See more information on the Ronald McDonald House Meals that Mend program.