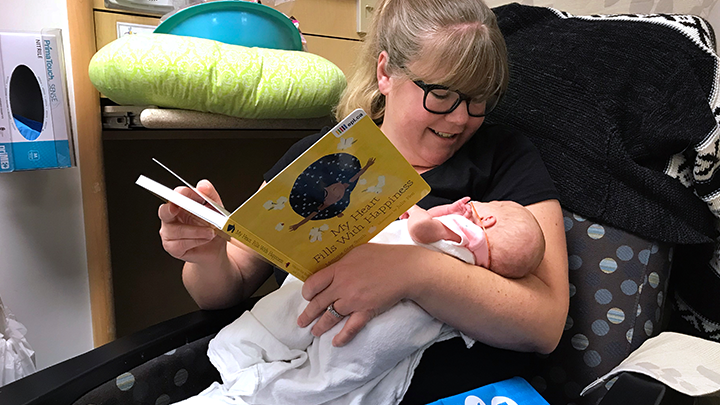 Welcome Baby promotes language and literacy for babies in neonatal intensive care
Story by Vanessa Gomez | Photo by Sharman Hnatiuk
Recognizing the need for literacy and language development in premature and sick babies, Edmonton Public Library (EPL) and Stollery Children's Hospital are joining forces to expand the Welcome Baby Program to the neonatal intensive care unit (NICU) at the Royal Alexandra Hospital (RAH).
Assembled by library volunteers, the packages comprise a book bag, a board book, a CD of songs and rhymes, early literacy information as well as an invitation to apply for a free library card.
"When a baby is born prematurely, or if they're very ill and need to be admitted to the NICU, they may not have the same sound exposures," says Stollery neonatologist, Dr. Amber Reichert. "Obviously, we try really hard to promote development in the NICU, but we have to be cognizant of their medical needs as well."
Babies begin to hear sounds as early as 20 weeks' gestation. Studies have shown that these sounds help develop the foundation for language. As well, conversational dialogue with infants and toddlers improves IQs and test scores years down the road for children.
The program, launched in 2014, provided more than 8,000 packages last year to families when they bring in their babies for their two-month immunization. The RAH NICU receives an average of 120 admissions a month.
For parents in the NICU, reading to their babies is also a way to bond and take on the role of being a parent in an environment that's far from traditional.
"We had one mother who said that having a book to read to her baby allowed her to have that conversation and communication when she just didn't have the words," says Dr. Reichert.
For Deanna Ganske, the NICU experience proved overwhelming when she had her daughter there five years ago.
"It was sort of a shock being in the NICU," says Ganske. "When you don't get to bring your baby home, you sort of lose that instinct of what you should be doing."
Now, as a parent volunteer, Ganske firmly believes the Welcome Baby Program helps other parents nurture their natural instinct and recreates a home for their babies in their new environment.
"I think it's so important to be able to bond with your baby — especially under a circumstance you maybe were not expecting," says Ganske.
"Being able to read and sing nursery rhymes is something you would do at home — and bringing that to the NICU is kind of like making this home for your baby."
In the future, the library hopes to expand the program to other NICUs so more families can share the love of reading with their babies.