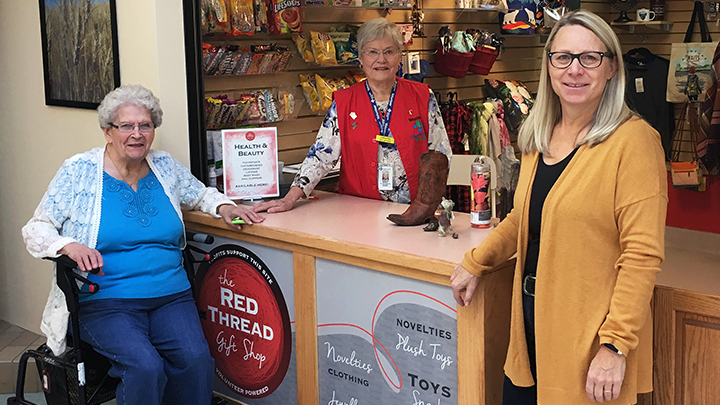 Renovated gift shop keeps spirits bright in Claresholm care home
Story by Alison Walker | Photo by Carmelle Steele
CLARESHOLM — Patients at the Willow Creek Community Care Centre are positively enjoying the many amenities of their new Red Thread gift shop, thanks to the dedicated volunteers here who made it happen.
With support from local community donations and the elbow grease of Alberta Health Services (AHS) volunteers, Willow Creek's tuck shop was transformed in September from an underserviced chocolate bar counter into a full-service gift shop.
"The gift shop is a little oasis of cheeriness," says Gerry Laing, site manager for the centre. "The new renovation makes it a brighter and lovelier place to shop. Staff and residents can be seen frequently enjoying a little shopping for a treat, a gift or a piece of clothing."
Willow Creek is a 100-bed long-term care facility located in Claresholm, a town of 3,800 people about an hour and 20 minutes' drive south of Calgary. The centre promotes independence and health, and strives to prevent illness, as it ensures the dignity and self-worth for its residents, who hail from Claresholm and surrounding communities.
Thanks to a donation from the Local Sons of Norway, a group in town, as well as Volunteer Resources' funding from vendor programs, the centre purchased new slat walls and accessories to transform the gift shop.
Going way beyond chocolate bars, the gift shop is now well-stocked with health and beauty items such as toothpaste and hair brushes, and with giftware such as shirts and pillows. This greater variety affords residents the opportunity and freedom to buy more of the basics for themselves, as well as tokens of thanks for their visitors.
"I like that my husband can easily get the items he wants, even though his mobility is limited to this building. It is very convenient for him to get a treat when he wants it," says Shirley Isaacson, whose husband Clarence lives at the centre.
As part of its reno, the gift shop also changed its name to the Red Thread, coming under the same umbrella as the Red Thread gift shops that dot several urban Calgary hospitals. Willow Creek is also the first rural Calgary Zone facility to have a Red Thread shop.
"Being connected to the Red Thread shops in Calgary hospitals brings significant benefits to our little shop," says Carmelle Steel, Coordinator Volunteer Resources for Claresholm, Nanton and Vulcan.
"We order our confectionary items and giftware with the ease of a text or email, and it is delivered directly to our site. Being a part of a larger purchasing group means our profits are maximized while still keeping the items at a price that is attractive to our residents and staff."
The shop will continue to be run by AHS volunteers, who have built relationships with Willow Creek residents and their families.
"The volunteers in the gift shop are always helpful," adds Roy Darch, a Willow Creek resident. "They let me know what items they have available, which makes it easy for me to get the items I want."