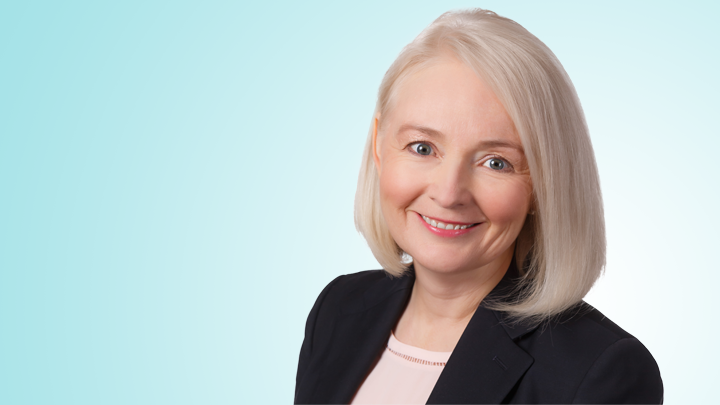 Women's Executive Network names AHS General Counsel among Top 100 Most Powerful Women in 2018
Congratulations to Tina Giesbrecht, General Counsel, Legal and Privacy, on being named one of the Women's Executive Network Top 100 Most Powerful Women in 2018.
Tina will receive her award in the Professionals Category at an awards gala being held this evening in Toronto. The event is held annually to pay tribute to outstanding women across Canada in the private, public and not-for-profit sectors who have advocated for diversity in the workforce, and who serve as an inspiration for the next generation of leaders.
"On behalf of everyone on the executive leadership team, I was delighted to learn of Tina's selection as one of Canada's Top 100 Most Powerful Women in 2018," says AHS President and CEO Dr. Verna Yiu. "Tina leads the Legal & Privacy team with an unfailing commitment to deliver superior results across all facets of AHS' legal and corporate risk management functions. Tina has an intensely busy role and a diverse, multi-faceted team to oversee, but she does it consistently well with her unique combination of good grace and firm resolve. Her award is certainly well-deserved."
Sherri Stevens, CEO of the Women's Executive Network (WXN), says more than 1,400 senior professionals from across Canada will be in attendance at this evening's awards gala. "We are celebrating 100 of Canada's highest achieving women in diverse fields," she says. "All 100 are role models for the generations who will follow — which is why it's very important to recognize and celebrate their great achievements."
Past award winners include many of Canada's most iconic women trailblazers: Margaret Atwood, best-selling author; Dr. Roberta Bondar, astronaut; Michaëlle Jean, former governor general of Canada; Arlene Dickinson, chief executive officer, Venture Communications; Heather Reisman, founder and CEO, Indigo Books & Music; Christine Magee, president, Sleep Country Canada; and Kathleen Taylor, chair of the board, Royal Bank of Canada.
"Being recognized as a WXN Top 100 Award Winner is special because it's an opportunity to send a message to young female leaders that ceilings are shattering and possibilities are endless," says Tina.
"I'm truly honoured to have been one of those selected to receive this award. While it's a personal career highlight for me, it's also, I believe, an important way to recognize the fact opportunities are steadily increasing in the Canadian workforce for women leaders to have an impact at the highest organizational levels.
"I feel privileged to have been chosen and owe much to the tremendous team in Legal & Privacy who support me day in and out. My thanks also to Dr. Yiu and Todd Gilchrist for their support during the nomination process. There are many terrific leaders at AHS and I am grateful for the role models and colleagues I have who support the advancement of women in leadership roles."
The Women's Executive Network is a member-based organization operating in Canada and Ireland that exists for the advancement, development and recognition of professional women. WXN delivers this advancement through training, events, mentoring, networking, and award and recognition programs for members and partners.