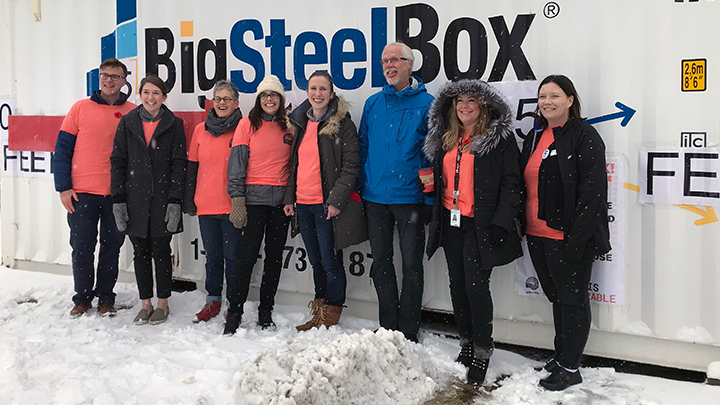 Glenrose staff, BigSteelBox team up to gather warm winter clothing for Edmonton's needy
Story & photo by Vanessa Gomez
EDMONTON — Hearts as well as the community's most vulnerable residents are being warmed this winter by the Glenrose Rehabilitation Hospital (GRH), which recently partnered with BigSteelBox, a moving and storage company, to collect winter clothing donations.
"We wanted to think of ways that we could touch people," says Trina Wetter, a GRH speech pathologist who helped lead the initiative. "People were very open to the idea of donating things — and we thought this would be another great way to help the community."
It's all part of Alberta Health Services' (AHS) ongoing commitment to foster healthy communities which also includes partnerships with many groups and foundations.
To this end, AHS supports the United Way of Alberta Capital Region to help Albertans live healthy lives as well as raise awareness of issues such as poverty, homelessness and mental health. Every year, 50/50 raffles, popcorn days, bake sales and gift-basket contests bring the AHS community together in fundraising.
BigSteelBox generously donated a seven-metre box, and parked it right outside the GRH, where staff worked to fill it with warm garments. As word spread, other Edmonton Zone sites pitched in.
"We had a lot of other sites contacting us and wanting to drop off items," adds Wetter. "We've really been getting some beautiful things that will help a lot of people out."
BigSteelBox also helped the Glenrose by promoting the cause on their own social media and dropped off donations as well.
"It's really about leveraging the resources you have to help out the community — and this opportunity really fits into what BigSteelBox is all about," says Joel McComeau, store manager for BigSteelBox.
"We have a social responsibility to support our community and proactively prevent people from entering the healthcare system," says Pamela Stevens, Executive Associate of the Royal Alexandra Hospital and Sturgeon Community Hospital, and a United Way Edmonton Zone Ambassador.
"The values of United Way reflect our own. We are happy to support them in helping Albertans live healthy lives in healthy communities."