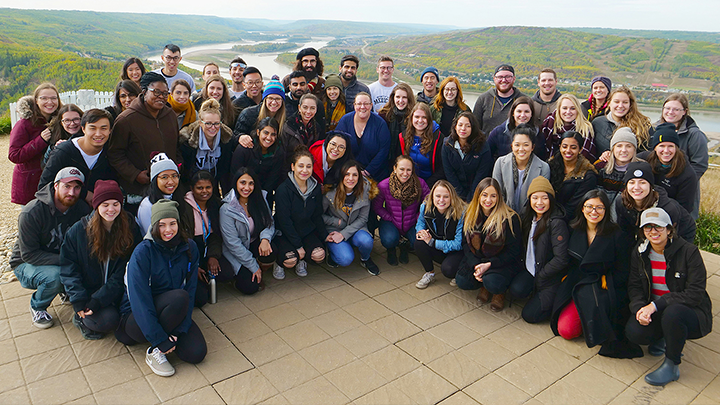 Skills weekends showcase the benefits of North Zone careers
Story by Diana Rinne
It's been a busy fall in North Zone for medical and nursing students from across Alberta who came to learn new skills and experience what it's like to live and practise in rural communities.
The Rural Health Professions Action Plan (RhPAP) hosted two health care skills weekends — Peace River (Sept. 22–23) and McLennan (Oct. 27–28) — in conjunction with the Peace Regional Peace Regional Health Care Attraction and Retention Committee and the South Peace Regional Physician Recruitment and Retention Committee.
"The goal is to give students some hands-on experience in a rural community," says Holly Handfield, a RhPAP rural community consultant for North West Zone.
The Peace River event included 54 first- and second-year students from the University of Alberta, NAIT and Grande Prairie Regional College, while the McLennan event hosted seven medical students from the University of Calgary, 17 nursing students from University of Alberta Faculté St. Jean and one from Grande Prairie Regional College.
Both events brought in local medical professionals in the skills stations, who taught students suturing, IV starts and casting as well as EMS skills. STARS was also on hand with its mobile education unit.
Different stations offer an interdisciplinary approach, says Handfield. "So, for example, physical therapists got to do suturing. It's a chance for them to do something they may not usually do; it gives them an opportunity (to experience) what other health care providers do."
For students, the weekend events proved to be a hit.
"This was an amazing weekend!" declared one student on the Peace River evaluation form. "I feel so lucky to have been involved and see all the hospital and community has to offer. I would be very interested in returning to Peace River."
Wrote another: "After this weekend I would consider working in a rural community. I enjoyed how welcoming everyone was, the small-town connections. I also learned about roles/responsibilities (that) I never would have thought of before."
During their weekend, students were also welcomed to a number of community events in Peace River and McLennan. A community supper with guest speakers as well as visits to local farms — plus some fun activities such as a paint night — made for a full, engaging weekend in each community.
Adds Handfield: "The intention of the events is for students to gain a better understanding of rural practice as well as experience the communities as a place to live and work in, when they're done their studies."