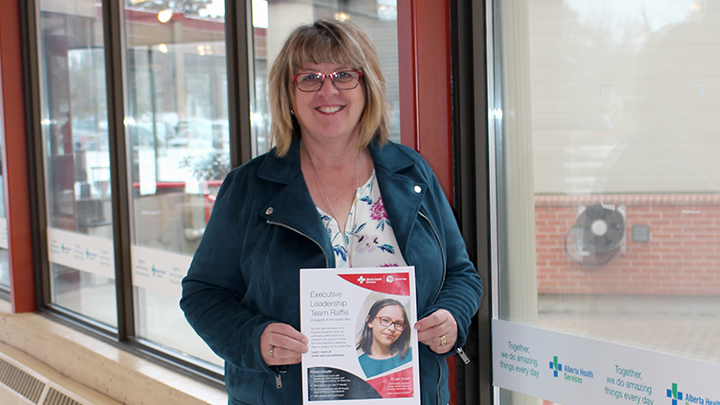 Leadership thanks staff and physicians for their time and generosity
Story by Ashley Weinhandl
Staff and physicians once again went above and beyond to raise funds for the United Way this year, with fundraising events being held all across the province. Each zone got involved, with events ranging from raffles, jeans and popcorn days to book and bake sales, and even clothing drives.
"I want to thank our people for their time and generosity," says Todd Gilchrist, Vice President, People, Legal & Privacy, United Way of the Alberta Capital Region board member and Alberta Health Services (AHS) Executive Leadership Team (ELT) Champion. "Your kind donations help improve the lives of Albertans."
New this year was the AHS ELT Raffle, where ELT members donated 18 unique prizes, including a complimentary lunch with AHS President and CEO Dr. Verna Yiu, a spin class for a raffle winner and 17 friends with ELT members; coaching sessions, dinners, job shadowing and more. This raffle alone raised more than $1,900 in support of the United Way.
Dalique van der Nest, Executive Director, Allied Health, North Zone, had great success collaborating with her team to sell their raffle tickets virtually.
"Our zone covers more than 445,000 kilometers of our province's geography, so facilitating zone-wide fundraising activities can be a challenge," says van der Nest, who's also the North Zone United Way representative.
"This not only united our zone around a common purpose, but staff were excited by the prospect of personally meeting members of the Executive Leadership Team."
Van der Nest adds that she hopes to build on this year's success by having more provincewide fundraisers for the United Way in the future.
Donations support many essential programs across the province that focus on poverty, youth and building healthy communities, including those the United Way runs in partnership with AHS. United Way ensures that funds raised by a community, stay in that community.
"Partners like the United Way fund programs that support the health of Albertans and helps them stay in their communities and homes longer," says Gilchrist. "They are an important partner in helping us build healthy communities, together."
Final United Way numbers for AHS are still being tallied from various sources — including payroll-deduction pledges, special events and activities — with the total amount to be known in the new year.