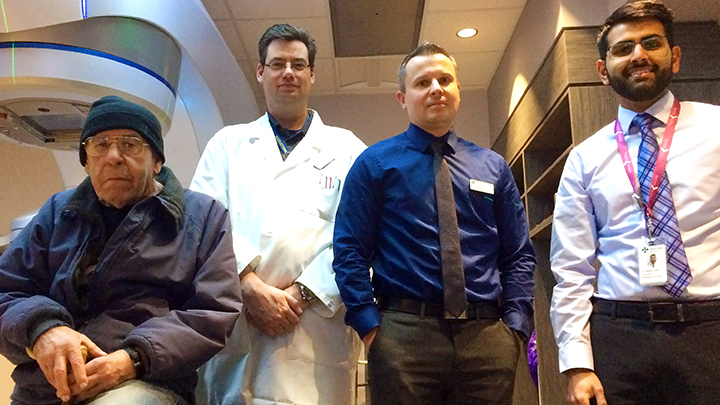 Technology, new processes improve radiosurgery for cancer patients
Story & photo by Greg Harris
CALGARY — Patients at Tom Baker Cancer Centre who need radiosurgery for tumours in the brain are getting treated faster than before, thanks to new technology and streamlined processes.
Patients who in the past could spend the entire day in hospital awaiting treatment are now in many cases having one lengthy visit broken into two short ones. Moreover, staff have been able to increase the number of patients they treat each year to about 250 from 200.
For someone like 70-year-old cancer patient Paul Daley, the less time spent in hospital, the better.
"I was in and out pretty quick," Daley says of his 2017 radiosurgery. "It's the waiting around that kills you," whether that's waiting for treatment or waiting for test results, he adds.
Daley was diagnosed with lung cancer, which metastasized to his brain and resulted in four tumours that required radiosurgery. (Radiosurgery is a type of radiation therapy that precisely targets tumours with high doses of radiation.) Daley still receives chemotherapy for his lung cancer, and follow-up evaluations for the brain metastases every three months.
"Overall I think patients are quite satisfied," says Dr. Salman Faruqi, a radiation oncologist who was part of the improvement initiative. "We see them quickly; and by having a team dedicated to radiosurgery we're able to offer a lot of personalized care."
The improved treatment times were made possible in part by the acquisition of two new linear accelerators — called LINACs — that are designed for radiosurgery and which use high-energy X-rays to destroy cancer cells.
Aside from delivering radiation dosages four times faster than previous technology, the new LINACs also have built-in CT scanning capability and optical infrared cameras that allow for verification of patient positioning before and during the treatment to ensure the radiation is being correctly targeted.
"With the new technology we're able to treat multiple metastases faster than before — and in the same treatment session," says Dr. Nicolas Ploquin, a medical physicist who helped lead the improvement initiative. For example, as many as 15 brain metastases can be targeted in one session.
The complex and precise radiosurgery required for treating brain metastases means patients must be immobilized to within half a millimetre to correctly target a tumour. Standard practice has been to surgically affix a frame to the head to keep it immobile, but now, in most cases a plastic mesh mask that conforms to the shape of the patient's head performs the same function with the same treatment accuracy.
When a patient is presented with a radiosurgery option, they come in for a consult with a radiation oncologist, a CT scan and the creation of the mesh mask. The actual treatment is then scheduled for within five days. Meanwhile, a team made up of the patient's physician, a radiation oncologist, a medical physicist and a dosimetrist (who specializes in radiation dosage) creates a plan for targeting the tumour.
The quality improvement team — made up of radiation oncologists, medical physicists, therapists, nurses and neurosurgeons — also adjusted how patients are scheduled, which contributed to an increase in capacity, but without the need for additional staff.
Radiosurgery for brain metastases helps preserve quality of life and cognition for cancer patients and has become the preferred treatment option for most patients with brain metastases. The alternative, whole brain radiation, negatively affects cognitive function, quality of life and causes more hair loss and fatigue.