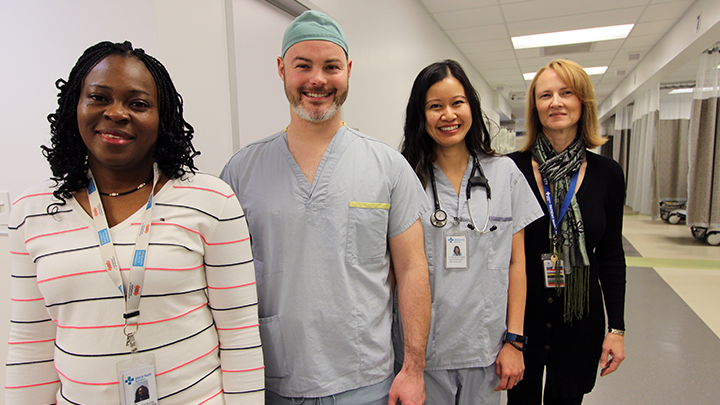 Chinook Regional Hospital applauded by American College of Surgeons
Story & photo by Sherri Gallant
LETHBRIDGE — Patients having surgery at Chinook Regional Hospital can take comfort in knowing their hospital is one of 83 worldwide — and the only hospital in Alberta — to be commended by the American College of Surgeons for exemplary surgical outcomes.
The college's National Surgical Quality Improvement Program (NSQIP) selected the local Alberta Health Services (AHS) facility from more than 800 participating hospitals around the world.
"Residents of southern Alberta can be proud of the world-class surgical care they receive in Lethbridge," says Health Minister Sarah Hoffman. "This well-deserved honour reflects the outstanding work of the Chinook Regional Hospital staff and their commitment to excellence in healthcare. Thanks to their exceptional work, Albertans are receiving the right care, in the right place, at the right time."
Dr. Jack Regehr, Zone Medical Director for AHS South Zone, adds: "We are tremendously grateful to our nurses, hospital staff, physicians and surgeons for the great job they do in going above and beyond to serve patients, and provide safe, timely care."
About 10,000 surgeries, including day surgeries, are performed annually at Chinook Regional Hospital, which joined the National Surgical Quality Improvement Program in 2014. The program's goal is to reduce infections, illnesses and deaths related to surgical procedures by providing surgical teams with the best, most current evidence related to the practice of surgery.
The NSQIP was developed by the American College of Surgeons in response to public scrutiny over surgical care at American veterans' hospitals. It has since been adopted at sites throughout North America and around the world. Surgery, nursing and anesthesiology departments all contribute to the data collection.
Chinook Regional Hospital tracks surgical outcomes and uses this data to identify opportunities for improvement in the quality of their surgical care. Among the surgery-related improvements reported at Chinook Regional Hospital between 2016 and 2017:
The rate of postoperative infections (all types of surgeries) fell from 2.76 per cent in 2016 to 2.02 per cent in 2017, a 27 per cent reduction, placing Chinook Regional Hospital in the top third of participating hospitals.
The 30-day re-admission rate for general surgery patients fell from 22 events in 2016 to 12 events in 2017, placing Chinook Regional Hospital in the top 10 per cent of all participating hospitals.
Out of 541 orthopedic surgeries in 2017, there were no cardiac complications, due in part to improved pre-operative assessments that aim to better prepare patients prior to surgery (there were none in 2016 either). Last year, the hospital also had no cardiac complications for all types of surgery; there were five cardiac events for all types of surgery in 2016.
"The surgical teams at Chinook Regional Hospital have demonstrated how to use clinical data as a decision-making guideline for improvement work that is world class," says David Chakravorty, a Provincial Lead with the AHS Surgery Strategic Clinical Network.
National Surgical Quality Improvement Program
The NSQIP has proven each year to:
Prevent 250-500 complications
Save 12-36 lives
Reduce costs by millions of dollars
Apply ongoing learning in a cycle of continuous improvement
Benefits for patients:
Fewer complications: The rate of surgical site infections after breast surgery dropped significantly for patients at Surrey memorial Hospital in Vancouver. An estimated 75 infections were averted over the course of two years.
Better outcomes: 82 per cent of NSQIP hospitals saw improvement in postop morbidity levels and 66 improved mortality levels.
Shorter hospital stays: At Decatur General Hospital in Ala., the hospital length of stay for patients with urinary tract infections was twice as long for patients without UTI at the beginning of NQIP implementation. Within one year, length of stay was the same for patients whether or not they had a UTI, and the rate of post-surgical UTI fell from 3.1 per cent to 0.8 per cent.
Greater satisfaction.
Benefits for surgeons:
Since it was developed and is supported by surgeons, the program promotes the confidence and engagement of medical teams. Surgeons who use ACS NSQIP receive:
Better data for more targeted decision-making
Robust reports
Pre-op risk calculator
Benefits for hospitals:
Sustained reduction in post-op mortality and complication rates, and disparities of care
Lower costs of care
Enhanced community reputation through improved patient outcomes