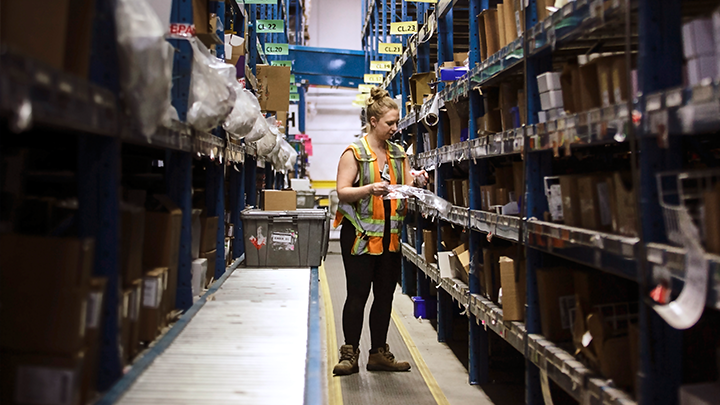 Outcomes to-date demonstrate a 7-1 return on investment
Story by: Greg Harris
Alberta Health Services (AHS) has one of the top health supply chain management programs in the world, according to a case study recently published in the journal, Healthcare Quarterly.
The study shows AHS is reducing costs and improving patient safety through the supply chain processes that Alberta uses to procure and track products to the point of patient care.
"As AHS approaches its 10th anniversary in 2019, Alberta — with its single provincial healthcare system — is well positioned to become the first health system globally with a clinically integrated supply chain infrastructure that will be able to track and trace the care processes and the products used in care that achieve the best outcomes for specific population segments and identify the conditions under which best outcomes can be achieved for all Albertans," the authors write in their case study of AHS.
"Outcomes to-date demonstrate a 7:1 return on investment, automated recall and traceability of patient safety events province-wide," note the authors Dr. Anne Snowdon and Alexandra Wright.
A series of case studies, which also highlights the work of the National Health Service in England and Mercy Health in St. Louis, Mo. was released in 2018, but only recently published by Healthcare Quarterly.
"If there was an Olympic competition in health supply chain management, AHS would win the gold medal," says AHS President and CEO Dr. Verna Yiu. "Transforming our supply chain improves safety, improves health system quality and, most importantly, patient care. Recognition like this is great news for Albertans."
Supply chain management contributes to safety and quality by ensuring patients get the correct product, such as an implant, and that such products and devices are traceable to the patient in the event of a recall. It also helps in measuring outcomes to determine effectiveness of the products, which, in turn, contributes to standardization of care.
Jitendra Prasad, AHS Chief Program Officer, Contracting, Procurement and Supply Management, says many of the improvements have only been possible because leadership has understood the benefits to patient care that supply chain management can contribute.
"A single province-wide system has allowed AHS to reduce its supply-related costs through consolidation of volumes and ability to negotiate better contract terms. The work done to date as described in the study allows for better tracking of supplies and streamlines distribution of products which helps to further reduce costs and waste," Prasad says.
Dr. Snowdon is the lead author of the Healthcare Quarterly case studies and the Scientific Director & CEO of the Supply Chain Advancement Network in Health, based at the University of Windsor. Alexandra Wright is a research analyst at the World Health Innovation Network and a PhD candidate at the University of Toronto.
Healthcare Quarterly focuses on best practices, policy and innovations in the administration of healthcare, and is published by Longwoods Publishing Corporation in Toronto.