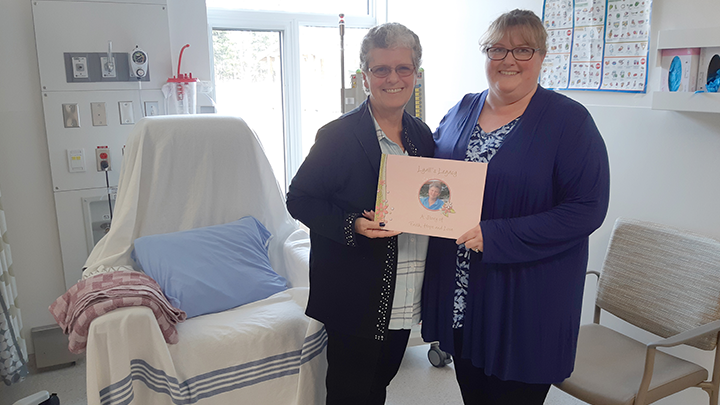 Grace Cormack, left, and Michelle Radey recently visited the new permanent dialysis clinic at Whitecourt Healthcare Centre to celebrate its opening and to present an inspirational book in memory of Cormack's late sister Lyall Sneddon.
Families and patients gather to celebrate new service
Story & photo by Amy Crofts
WHITECOURT — The permanent satellite dialysis clinic at Whitecourt Healthcare Centre has brought much comfort and convenience to area patients since it opened last July.
"Having the dialysis clinic inside the hospital is a true blessing," says current dialysis patient Donna Barrass, who started dialysis in December 2017.
"The clinic is so much more reliable and convenient. And with the big windows it's bright and cheery and a lot more comfortable. There's more room for my husband Albert and my other relatives when they come visit me."
The three-station clinic — open Monday, Wednesday and Friday — also has room to expand if and when necessary.
"Our patients have been integral to the creation of these permanent dialysis spaces," says Sandi Vanderzee, Executive Director of Alberta Kidney Care North. "The community here continues to be blessed by the determination, perseverance and commitment of our former patients to bringing dialysis services to Whitecourt."
One of these former patients was Lyall Sneddon, who lived by three virtues: faith, hope and love.
"Lyall always had faith that she would get better. She always had hope that things would improve. And she was always quick to share her love with others," says her niece Michelle Radey, who spoke at a celebration of the permanent dialysis clinic at the centre on April 18.
Sneddon received dialysis there from 2012 to 2017. A Mayerthorpe resident, she used to travel almost 140 km to Edmonton three times per week for treatment. During this time, Sneddon actively petitioned for a permanent, closer-to-home dialysis service.
Radey adds: "We are sad to say that Lyall never got to see this clinic as she passed away in May of 2017, however we know she's looking down on all of us smiling from ear to ear."
Like Sneddon, Barrass also received dialysis treatment on a mobile bus prior to the opening of the permanent clinic.
Another strong community advocate was former dialysis patient Brian Elkow.
Beginning in April 2006, Elkow sent letters to provincial and healthcare authority leaders, local doctors and the Northern Alberta Renal Program (now known as Alberta Kidney Care North) asking for a dialysis unit to be established in the hospital. He also put ads in local newspapers to get an idea out how many people would benefit from a dialysis unit in the region.
And in January 2008, the state-of-the-art dialysis bus hit the road in Whitecourt.

"Sadly, dad passed away five days before his first (scheduled) treatment on the bus," says his daughter Tanya Ramstead. "But his legacy lives on in the opening of this unit — and for that he would be so proud."
The Whitecourt dialysis clinic is one of four that have opened since February 2018 in the North Zone of Alberta Health Service (AHS). In collaboration with local leadership teams, Alberta Kidney Care (AKC) North has also opened clinics in Lac La Biche, Edson and Hinton.
Grace Cormack, Sneddon's sister, and Radey created a book about Sneddon's healthcare journey — and left it at the clinic, as a source of inspiration for current patients.
"We've now been given some closure on a project that was near and dear to our hearts," adds Cormack. "Although it provides us with closure, it's actually an opening that will support many local people who are in need of dialysis care."