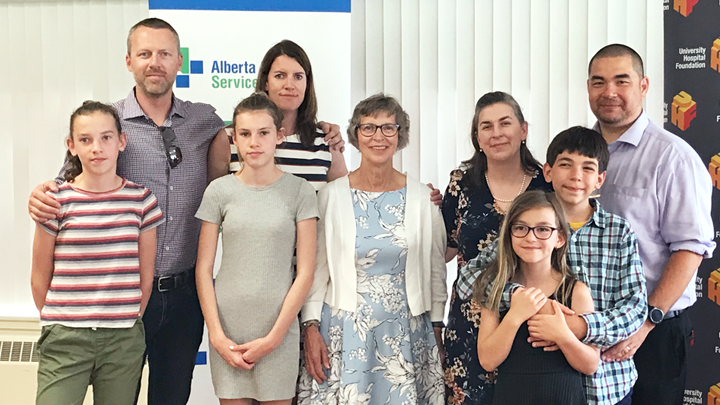 Flanking Dorothy Sutton, centre, are her daughters Roberta MacGillivray, left, and Kelly Vass, right, along with other members of the Sutton family. The group joined the University Hospital Foundation at a tea to celebrate their gift to Alberta Kidney Care North on Aug. 2.
Sutton family and BGE pledge $500,000 to the University Hospital Foundation in honour of family member
By Amelia Schofield
LAC LA BICHE — The family of the woman who received the first hemodialysis treatment in Canada is honouring her memory with a $500,000 donation toward kidney care.
Dorothy Sutton; her husband, the late Darrel Sutton, and their family business BGE pledged the gift toward Alberta Kidney Care North in the name of Darrel's sister, Diane Sutton.
In 1962, Diane received the first chronic intermittent hemodialysis treatment in Canada at the University of Alberta Hospital. At the time, she was the second patient in the world to receive this care.
Alberta Kidney Care North provides assessment, treatment and follow up for people with kidney-related issues. The Sutton family's donation, made to the University Hospital Foundation, will be used to replace existing dialysis machines which help provide life-saving treatment to renal patients across northern Alberta.
"We are proud of how strong Diane was and how brave she was," says Kelly Vass, Darrel and Dorothy's daughter. "My aunt's experience showed how hemodialysis can significantly improve quality of life."
Although Diane died in 1967, the Sutton family, who live in Edmonton, chose to honour her memory with this donation.
On Aug. 2, the University Hospital Foundation hosted a tea to celebrate the Sutton family's gift at the renal dialysis unit at the William J. Cadzow-Lac La Biche Healthcare Centre, which opened in February 2018. The family who lives in Edmonton, chose to recognize in the donation in Lac La Biche because of their longtime connection to the community.
"Until the 1960s, there was little hope following kidney failure. Today, dialysis gives patients a new lease on life," says Tracy Delorme, patient care manager for Alberta Kidney Care North. "Since our unit's opening, we have provided 2,012 hemodialysis treatments."
Dialysis is the process of cleansing the blood of toxins and excess fluid when normal kidney function is reduced. A patient's blood is filtered through a dialyzer and then returned to the body. Patients undergo dialysis in hospitals or community facilities three times a week, with each typical session lasting about four hours.
The William J. Cadzow-Lac La Biche Healthcare Centre has six dialysis stations with the capacity to serve 12 patients per day in Lac La Biche and area.
The Sutton family's gift marks a significant milestone for dialysis care in northern Alberta.
"We are incredibly grateful for the gift from Darrel and Dorothy Sutton and their family business, BGE," says Dr. Kailash Jindal, medical lead of Alberta Kidney Care North. "The Sutton family are smart, personable, reliable and creative people who are clearly invested in providing life-saving care to renal patients."
"The University Hospital Foundation extends their thanks to the Sutton family and BGE for their generous contribution to Alberta Kidney Care North," says Corinne Ferguson, Interim Vice President, Finance & Operations with the University Hospital Foundation. "Their gift has already made a difference in enhancing vital hemodialysis care for patients in this community, giving hope and improving quality of life, and will continue to do so for years to come."
For more information on how to support the University Hospital Foundation, please visit givetouhf.ca.