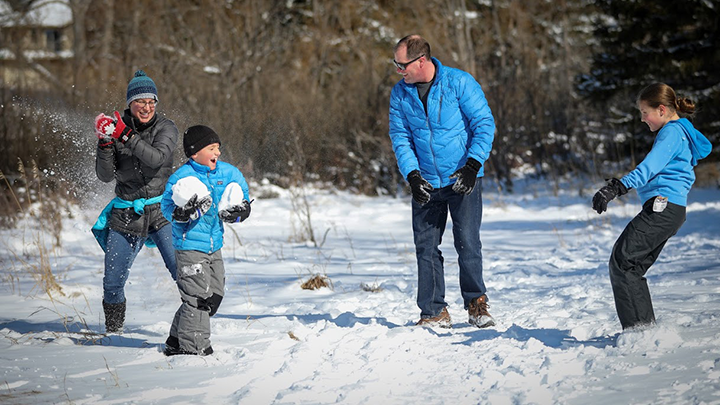 In these days of COVID-19, you'll need to keep your family away from public playground equipment. Also maintain social (or physical) distancing of at least two arm's-lengths (about six feet or two metres) when outside. Small children often rush toward other children. Let them know they can't do that right now.
Updates on COVID-19 & Restrictions
We can all feel a little squirrelly when we're cooped up inside. Luckily, nature offers quick relief when you and your family start climbing the walls.
Going outside can help you and your kids reset.
"Children are naturally drawn to outdoor play. Outside they can jump, run and balance. They can also be creative, practise skills, challenge themselves and explore the world around them," says Ellen Pearce, manager of School Health & Wellness Promotion at Alberta Health Services (AHS). "Nature offers more than a much-needed breath of fresh air."
Help for that squirrelly feeling
Being outside and active helps children and adults. It can:
Fuel curiosity and exploration
Improve mental health and well-being
Build observation, problem-solving and social skills
"Unplug" us from technology
Boost confidence and self-esteem.
Being outside also helps us get a better night's sleep, reduces stress, lessens depression and improves healing. For example, an often-quoted study in 1984 found hospital patients who had a window view of trees recovered faster, and with fewer complications, than patients with a brick-wall view.
A 2017 report published in the journal of Environmental Health Perspectives, called Nature Contact and Human Health: A Research Agenda, found nature offers many promising health benefits throughout life.
Study researchers noted many questions remain about the health benefits of being in nature. But it's safe to say nature melts tension and revives our spirits. Try it yourself.
A few tips before you go:
Be prepared with clothing. "We always say there's no poor weather, just poor clothing," says Sayward Wilkinson Blanc, the program director for the Calgary Nature Kindergarten. Her students spend about 75 per cent of every day outside. In spring, the weather can change quickly. You may need to add or take off layers.
Remember hygiene. Bring hand sanitizer if you have it. Wash your hands with soap and water before you eat and whenever you come inside. Keep in mind public washrooms at parks and other places are closed. And peeing or pooping outside is not cool.
Let the kids lead. When your kids pick where to go and what to do, your family will have a more authentic experience, Wilkinson Blanc says. As well, your kids will be interested longer when they have a say.
No agenda needed. You don't have to have an activity or even a destination when you go outside. Explore, look around. Repeat. Just remember how to get home (or back to your vehicle).
Be safe. Watch for slippery trails, icy patches and puddles. When near water (running or frozen), kids will need extra supervision.
Outdoor activities
Go for a walk. Start right outside your door. Even in our busiest city centres, birds, insects and plants are all around us when we look for them. Blanc says spring is the ideal time to look for little changes every day. Older kids can make notes about what they see.
Map your route. During or after your adventure, chart your course and note what you saw, where. You can add more with each new outing and turn it into a geographical journal by adding photos.
Stop and listen. Even the most remote places in Alberta have some noise. As well, with traffic reduced across the province, many of us who live near busy roads can hear natural sounds we don't normally hear. Ask your children what they hear — and what's making the sound. Is it a bird, an animal, water or a creaking tree?
Stop and breathe. Pause for a few moments and just breathe. Look around, up and down or close your eyes. Be grateful in the moment. Even young children can benefit from some quiet, reflective breathing. If your children are older, consider a short meditation. It's uplifting.
Scavenger hunt. See Winter Nature Scavenger Hunt checklist from the Edmonton Family Fun website. The site has lots of other COVID-19-aware family activities and many other communities are sharing similar information.
Count birds. Hundreds of thousands of birds are starting their spring return to Alberta and points north. It's a great time to watch for them. Use Nature Alberta's free downloadable bird checklists to track the winged wonders you spot. You can also count other animals, such as deer, rabbits and coyotes.
Bathe in nature. The Japanese practice of shinrin-yoku translates to forest bathing. This reflective practice is all about taking in nature with all your senses. Bask in the sun, fill your lungs with air, listen to the wind. You can do this anywhere outside. And it can wash away negative feelings and promote positive feelings.
We've slightly modified these five steps to shinrin-yoku from Grow Wild UK.
Step 1
Be fully present in the experience. Turn off your phone and put away your camera or any other distractions.
Step 2
Leave behind your goals and expectations. Wander aimlessly, allowing your body to take you wherever it wants.
Step 3
Pause from time to time. Look more closely at a leaf or notice the sensation of the path beneath your feet.
Step 4
Listen to the sounds around you. See how the behaviour of the birds and other animals changes when they become used to your presence.
Step 5
Resist talking until the end of the walk, when you can gather to share your experiences.