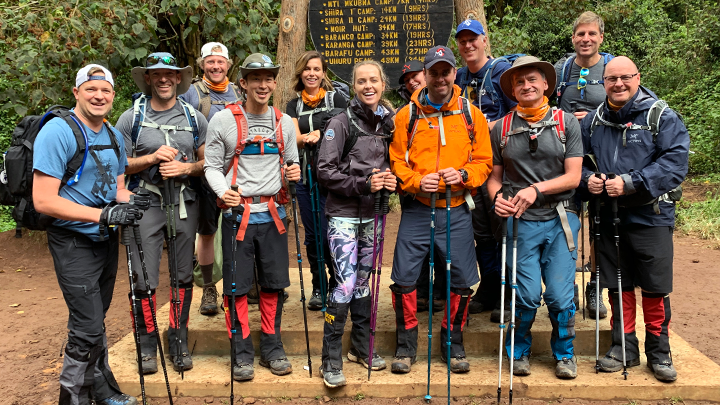 This year, the Stollery Children's Hospital Foundation nominated Richard Kirby and the Summit for Stollery for a National Philanthropy Day Award to recognize their 2019 climb to the top of Mount Kilimanjaro in support of children's health. Climbers are, from left, Kieran Bowes, Kevin McKee, Kevin George, Jonathan Chia, Jenny Adams, Christine Lecuyer, Krista Ference, Tim O'Neill, Richard Kirby, John Burghardt, Todd Bish and Mike House.
AHS' philanthropic partners recognize individuals and groups for their exceptional support of healthcare
Story by Amelia Schofield
This Sunday, Nov. 15, once again marks National Philanthropy Day — a special opportunity led by the Association of Fundraising Professionals (AFP) — to honour those giving back to their communities.
This year, National Philanthropy Day awards programs are being held throughout Alberta to recognize the exceptional individuals, organizations and community groups who support charities and non-profits across the province.
Many of Alberta's health foundations are taking part by recognizing more than 20 nominees for this year's awards.
"This year has been challenging for everyone, and has tested our resolve in many ways. Despite these difficulties, our philanthropic partners and their donors continue to show incredible support toward healthcare in our province," says Dr. Verna Yiu, President and CEO of Alberta Health Services.
"These partners continue to step up time and time again to support the needs of Albertans, and we appreciate everything they do to advance care for our patients and their families."
This year, our partners are recognizing the following individuals and organizations through AFP's National Philanthropy Day:
The Broderick Family and Trail Appliances: In 2017, Dave Broderick suffered cardiac arrest and received two life-saving surgeries at the University of Alberta Hospital's Mazankowski Alberta Heart Institute. In gratitude for the care he received, Dave and his family along with their business —Trail Appliances — made a donation to the University Hospital Foundation to purchase 38 new hospital beds for the Mazankowski. Since then, Dave and his family have continued their generosity by supporting the Foundation's annual Heart Pledge Day, which raises funds for cardiac care at the Mazankowski.
Courage Gala Committee: The Courage Gala is the Glenrose Rehabilitation Hospital Foundation's largest annual fundraising event in support of the Glenrose Hospital. This award-winning event would not be possible without the exceptional expertise, community influence and hard work of the Courage Gala committee. After this year's event was cancelled due to COVID-19, the group continued to support the fundraising efforts by confirming sponsorships and securing donations for the foundation. Despite the situation, they never let it deter them from their goal of helping patients at the Glenrose live the best lives possible.
Hass Wealth – RBC Dominion Securities: Shawn Hass and his team at Hass Wealth – RBC Dominion Securities believe in giving back to the community in which they live in and serve. As donors to the Chinook Regional Hospital Foundation for nearly 20 years, Hass Wealth has supported many of the foundation's events, and have made several significant gifts in support of the emergency department, the Better Beginnings Program and mental health at the Chinook Regional Hospital. They consistently set the example by supporting and encouraging others to do the same.
Marshall Eliuk: The University Hospital Foundation established the Marshall Eliuk Fund for Clinical Innovation and Exemplary Care in Hematology following a significant gift from Marshall Eliuk, a longtime Alberta-based businessperson. Eliuk was inspired to support the foundation following his diagnosis with aplastic anemia, a rare and serious blood disease. Through this fund, Eliuk's generous donation will advance patient care and innovation in hematology for many years to come.
Megan Kheong and Peter Clark: After experiencing the loss of their son, Megan and Peter decided to honour his memory by making a difference in the lives of others. To support other families, the couple came together with family, friends and co-workers to raise funds toward the purchase of an additional Cuddle Cot for the Lois Hole Hospital for Women. Now, thanks to their contributions, more families will benefit from this piece of equipment which allows them to spend more precious moments together after a child has passed.
The Dungarees: Since 2016, the Dungarees have been climbing the charts as country music stars while also making an impact for Albertans facing cancer. Their 24-hour Gig-a-Thon, held in support of the Alberta Cancer Foundation, is a testament to that commitment. Since its inception four years ago, the group as played more than 100 hours to raise funds for the foundation's Patient Financial Assistance Program, which helps patients cover day-to-day costs, such as groceries, gas and childcare when its needed most.
The Garritty Family: Having used the Stollery Children's Hospital for their youngest son, the Garritty Family has proudly given back to the Stollery Children's Hospital Foundation for the past decade. Their support of the foundation's Snowflake Gala is one of the main contributors toward the success of the event. In addition to supporting financially, the family makes it their personal mission to share their passion with their friends, business networks and community, encouraging them to attend the gala, have a great time and support a cause that's close to their hearts. (This year's Snowflake Gala is moving ahead as a virtual event called the Snowed In Gala.)
Government of Canada Emergency Community Support Fund (ECSF), United Way Capital Region, United Way Alberta Northwest and United Way Central Alberta: Thanks to the support of the Government of Canada ECSF, administered through the United Way, the Alberta Cancer Foundation has created the COVID-19 Psychosocial Emergency Response Program. With the generous contributions provided by the ECSF, the foundation's fund will equip social workers in local cancer centres with essential supports for patients, connecting them with items such as groceries, gas, accommodations and counselling services during the pandemic.
International Mascot Corporation: For over 12 years, Joel Leveille and his company, International Mascot Corporation, have brought the Stollery Children's Hospital Foundation's beloved Dr. PatchUp to life. This fun-loving mascot was created and kept in tiptop shape through the generosity of Joel Leveille and his team. Their in-kind support allows the foundation to bring Dr. PatchUp's smiles, hugs and high-fives to kids wherever he goes.
ION Print Solutions: As a partner to the Alberta Cancer Foundation for over a decade, ION Print Solutions has been instrumental to the foundation's success with annual giving and matching gift programs. With the onset of COVID-19, the company also recently stepped up their partnership with the foundation by providing support for virtual events across the province.
Richard Kirby and the Summit for Stollery: Richard Kirby, the past chair of the Stollery Children's Hospital Foundations board of trustees, climbed Mount Kilimanjaro in 2007. Twelve years later, Richard had the idea of climbing Mount Kilimanjaro again, but this time to raise funds for the Stollery Children's Hospital Foundation. In October 2019, Richard — along with 11 other friends and acquaintances who were passionate about the Stollery Children's Hospital — made the climb. Enduring extremely harsh terrain and weather conditions, the group successfully summited the mountain and reached their fundraising goal in support of Stollery patients and perinatal research.
The Cliff Lede Family Charitable Foundation and the William & Florence Lede Family Foundation: Marla Lede-Bruder and The Cliff Lede Family Charitable Foundation and the William & Florence Lede Family Foundation take their donations very seriously. Each year, Marla takes the time to learn about the University Hospital Foundation's upcoming priorities and how her family's foundations can best support them. As donors to Foundation since 2005, the Ledes have made significant contributions toward bringing the best brain and cardiac care to Edmonton, supporting new developments in transplanting engineered tissue in the knee, and other critical causes that have advanced care for Albertans.
Martin Deerline: As one of the longest-standing sponsors of the Stollery Children's Hospital Foundation's Snowflake Gala, Martin Deerline has proudly supported the foundation for more than 20 years. In addition to their financial support, they also selflessly provide many in-kind donations each year to help further fundraising through the foundation's auctions. Their support has been instrumental to furthering the foundation's ability to advance children's healthcare in northern Alberta and beyond.
Nancy Luyckfassel: Cancer has always been a part of Nancy's life. From living through her father's longtime battle to her own diagnosis, Nancy chose to live her life with a positive outlook. In 2016, Nancy and her friends launched the "Kickin' it Nancy style" event in support of Alberta Cancer Foundation. Since then, the event has raised significant funds for the foundation's Patient Financial Assistance Program.
Nicole Moores and Talitha's Hope 4 A Cure: When Nicole's daughter, Talitha, was diagnosed with pulmonary hypertension, a degenerative lung disease, she felt she had to do something to help her daughter. This urge to help her daughter ultimately became Talitha's Hope 4 A Cure. Established in 2013, the fundraising dinner, dance and silent auction has raised hundreds of thousands of dollars to fund cutting-edge research for pulmonary hypertension at the Stollery Children's Hospital.
Reza and Sylvia Nasseri – Landmark Group of Companies: Since 1993, the Landmark Group and Reza and Sylvia Nasseri have shown exceptional support toward the University Hospital Foundation. Their contributions have included serving as Presenting Sponsor for the Foundation's Festival of Trees, hosting the Landmark House of Hope initiative, and making a significant contribution toward the foundation's Campaign for Prostate Health. In addition to their financial contributions, Reza has donated significant amounts of time to the Foundation, which has included serving as a board trustee for several years and as a campaign cabinet member for the Campaign for Prostate Health.
Spinal Cord Injury Treatment Center (Northern Alberta) Society (SCITCS): For over 30 years, SCITCS has helped advance care for individuals with spinal cord injuries by funding research and state-of-the-art technology. As part of their ongoing commitment, SCITCS most recently funded an Xcite machine for the Glenrose Rehabilitation Hospital through their support of the Glenrose Rehabilitation Hospital Foundation. This new equipment is used by patients who have neurological loss of function to promote muscle strengthening and movement, and allows patients to work on precise fine motor control and dexterity.
Sherlock Holmes Hospitality Group: For over seven years, the Sherlock Holmes Hospitality Group has been committed to changing the landscape of ovarian cancer research in Alberta. Through an annual golf tournament, a matching gift campaign and proceeds from their "Colleen's Amber Ale," they have raised significant funds for the Alberta Cancer Foundation in support of ovarian cancer research.
Alberta Health Services thanks our philanthropic partners, along with these individuals and organizations, for their ongoing support of healthcare across Alberta.
Visit ahs.ca/give for a full list of Alberta's health foundations.