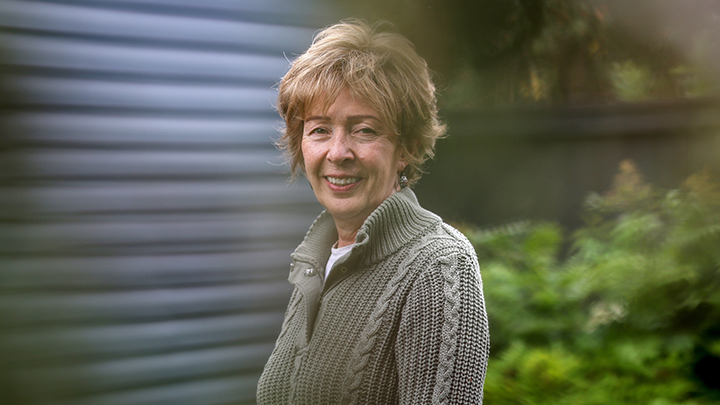 Thanks to new surgical guidelines, Linda Poissant was able to return home just five days after her surgery — a significant improvement over what would in the past have been a 10-day recovery. Photo by Leah Hennel.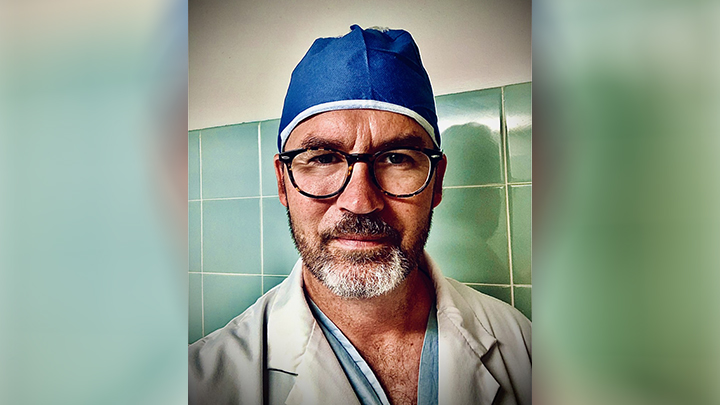 Dr. Gregg Nelson is a surgeon specializing in gynecological cancers, a University of Calgary professor, and secretary of the international ERAS Society. Photo supplied.
Alberta leading the world in applying ERAS guidelines
Story by Greg Harris | Photo by Leah Hennel
CALGARY — Linda Poissant underwent an operation last year that normally would have kept her in hospital for at least 10 days while she recovered.
However, thanks to surgical guidelines aimed at speeding recovery time, she returned to the comforts of her Calgary home after just five days. That was good for her — and good for the health system.
"Everything just went so smoothly, there was no reason for me to hang around," she recalls. "I felt great — the nausea was well-controlled, the pain was well-controlled, and I was up and walking. It was incredible — you don't want to stay in hospital any longer than you need to."
Linda's story speaks to the benefits of further expanded, evidence-based surgical practices known as ERAS — Enhanced Recovery After Surgery. Getting patients back on their feet and home sooner, ERAS practices also help maximize existing hospital capacity, which has been critically important during the pandemic.
"Because ERAS reduces the time surgery patients need to spend in hospital, more beds are freed up so more patients can come in for their surgeries," says Dr. Gregg Nelson, a surgeon specializing in gynecological cancers and the lead author of a 2021 research paper about ERAS in Alberta.
"ERAS also decreases readmissions to hospital due to surgical complications. And when patients do need to be readmitted, they spend less time in hospital than do readmitted non-ERAS patients," Dr. Nelson says. "Those improvements also mean more beds are available for surgery patients."
Alberta is the first large healthcare jurisdiction in the world to implement guidelines across multiple surgical disciplines aimed at speeding patient recovery. ERAS was piloted in 2013 with a small group of colorectal surgery patients at two Alberta hospitals.
ERAS guidelines consist of about 20 different practices before, during and after surgery. They include keeping patients well-nourished, giving them anti-coagulants and pre-operative antibiotics, avoiding cold in the operating room, avoiding the use of long-acting sedatives, using non-opioid pain medications (where alternatives are medically appropriate), using anti-nauseants, and encouraging patients to move as soon as possible after surgery.
Dr. Leah Gramlich, co-lead with Dr. Nelson on the Alberta ERAS initiative, professor of Medicine at the University of Alberta and provincial medical advisor for Nutrition Services at Alberta Health Services, notes that ERAS is a strategy that supports moving the evidence on best surgical care into practice, challenging long-held practices.
"For decades we've told patients they couldn't have anything to eat the day before surgery and for days after surgery. We know that this can result in malnutrition and slow surgical recovery and healing. With ERAS, patients are able to eat up to a few hours before surgery and are encouraged to begin eating and drinking soon after surgery."
ERAS is currently being used across several surgical disciplines in Alberta: colorectal, liver, pancreas, gynecologic oncology, general gynecology, radical cystectomy (for bladder cancer), breast reconstruction, and head and neck cancer surgery. Work is also ongoing to introduce ERAS to cardiac surgery, Caesarean section, and spine surgery.
The AHS Strategic Clinical Networks (SCNs) originally championed the introduction of ERAS back in 2013 in colorectal surgery at Grey Nuns Community Hospital in Edmonton and Peter Lougheed Centre in Calgary.
"ERAS showed promise early on for benefiting patients and helping contain costs," says Tracy Wasylak, chief program officer for Alberta Health Services' SCNs, and a co-author on the paper.
"Bringing innovative practices like these into widespread use for the benefit of Albertans is exactly why the SCNS were created."
SCNs are provincewide teams of patients and families, health care professionals, researchers, community leaders and policy-makers. Each network is working to reshape healthcare and enhance the patient journey, improve outcomes and standardize care across the province.
Early support for implementing ERAS came from a Partnership for Research and Innovation in the Health System grant through Alberta Innovates.
Dr. Nelson is also a University of Calgary professor in the Cumming School of Medicine and secretary of the international ERAS Society.
The paper, Evaluation of the Implementation of Multiple Enhanced Recovery After Surgery Pathways Across a Provincial Health Care System in Alberta, Canada, was published in August 2021 in the online Journal of the American Medical Association (JAMA) Network Open.
---
By the numbers: how ERAS benefits patients and the health system
Aside from getting surgery patients back on their feet and home sooner, ERAS is also an effective way of helping to manage hospital capacity. Alberta researchers have found that among 6,773 patients across five surgery types in AHS, ERAS was associated with:
0.71 fewer days spent in hospital after surgery (patients get out of hospital sooner, which frees up beds so that more can come in to have surgery).
15.6 per cent fewer readmissions (fewer readmitted means more hospital beds are available for surgical patients to recover in).
1.7 day shorter length of stay in those patients that required readmission.
Additionally, from 2013-2018, ERAS has saved the health system an estimated $34 million.
Alberta continues to be recognized as a world leader in this area. The research paper about ERAS in Alberta was published in August 2021, in JAMA Network Open.