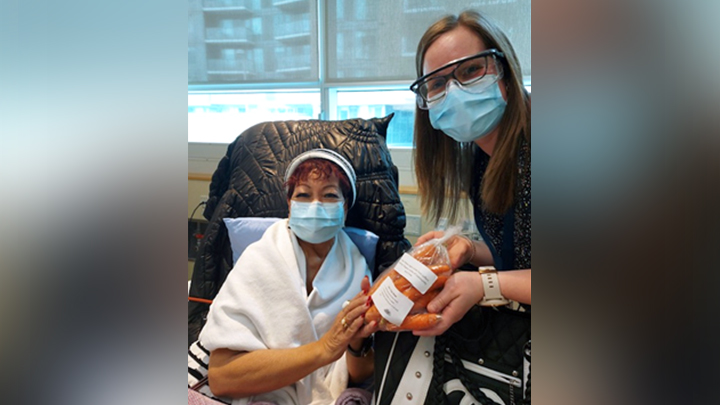 Dietitian Jodie Dupere hands out carrots to dialysis patient Leslie Ager at the Sheldon M. Chumir Health Centre. Photo supplied.
Dietitians, social workers put a little fun & education on the menu
Story by Melanie Veriotes
CALGARY — Hemodialysis came with a tasty surprise recently for patients at the Sheldon M. Chumir Health Centre when dietitians and social workers put a little fun and education on the menu.
Along with smiles, they were able to hand out 120 individually sealed bags of organic carrots, courtesy of the local Community Natural Foods, 1304 10th Ave. SW.
Sylvia Hui, dietitian in Kidney Care South, says that carrots were chosen because they're a low-potassium food that's ideal for people on hemodialysis.
As she made her deliveries, Jodie Dupere, dietitian in Hemodialysis Care, even gained the moniker "Carrot Lady" as she shared the veggies.
Each bag featured a label offering three creative ways to prep carrots, which prompted chats about how people were going to eat theirs when they got home.
Dietitians frequently meet with patients to talk about foods that will improve their lab work and kidney health.
The carrot giveaway, Dupere adds, gave her "an open invitation to interact with people in a positive, proactive way".
"The initiative was a success in that the carrots were well-received by the people attending dialysis," says June Yee, clinical lead in Social Work – Kidney Care.
"Healthy food and education were shared — and it was fun for patients as well as staff."