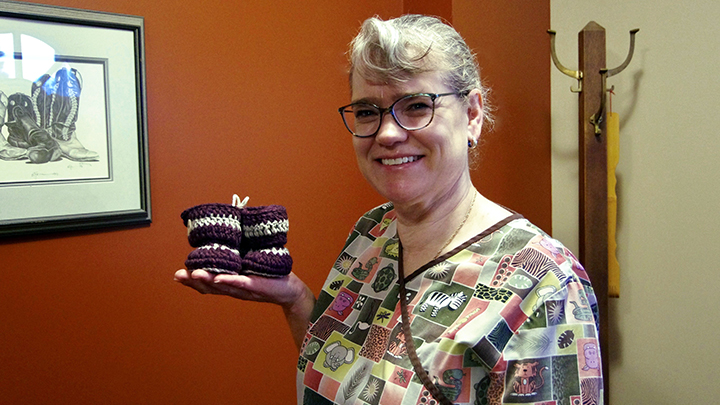 Lori Watt brings a personal touch, and sometimes a hand-made gift of baby booties, to her work as a medical lab assistant with Alberta Precision Laboratories at Three Hills Health Centre. Photo supplied.
Unexpected diagnosis led mom to Alberta Precision Laboratories in Three Hills
Story by Kelly Morris
THREE HILLS — Lori Watt didn't choose a career in lab medicine — it chose her. After marrying young and settling into her role as a stay-at-home mom, an unexpected introduction to the healthcare system led Lori to her true calling.
"I never had much to do with the lab world until our son, Dylan, was born three-months premature," says Watt, who recently marked 14 years as a medical lab assistant (MLA) with Alberta Precision Laboratories (APL) at Three Hills Health Centre.
"It was during his stay in the Neonatal Intensive Care Unit that we learned of his severe hemophilia and launched into a huge learning curve in all things coagulation."
Hemophilia is a bleeding disorder brought about by a missing protein in the blood, which prevents proper clotting of the blood. Treatment includes a steady infusion of blood product.
"When Dylan was about a year old things took a turn for the worse," she adds. "We discovered he had developed inhibitors, which is the body's immune system reacting, in fact destroying, the 'foreign' factor we were putting in his bloodstream to enable his body to clot. His immune system was destroying what would save his life."
Dylan began Immune Tolerance Therapy through a port placed in his chest for infusions. Watt and her husband Mike were trained to access the port, allowing them to support the treatment from home.
"We didn't have to feel like we lived at the hospital anymore. We've done his infusions since he was a year old, first through the port, then later through peripheral pokes in veins."
Around this time, the Watt family moved to Three Hills. They got to know the hospital staff in the ER and lab who would be ordering the blood products Dylan needed.
"Between my husband and myself we rarely had an issue establishing a vein — and because of that the boss of the lab, Donna, approached me one day to ask if I had ever thought of working in the lab."
Watt's immediate response was "no". But while the lab staff were available for back-up vein access, as it turned out, they were never needed. She had a natural talent. So she asked what would be involved in accepting a role in the lab — including distance education and on-the-job training — Lori felt encouraged and confident enough to accept the challenge.
"Lori is one of the most hard-working, diligent and detail orientated MLAs I have had the pleasure working with," says Melanie Hagel, clinical supervisor with APL. "Lori always goes above and beyond for not only our lab, but for her patients. She has an amazing talent for names and greets many returning or regular patients by their first names — and with a smile I know they all appreciate."
As Watt's own child spent a large part of his first year in and out of the hospital for treatments, she truly understands the experience of every patient and caregiver that enters the lab.
"I've been that parent bringing your precious child to the lab for testing," she says. "I have held my son down for blood work and infusions literally thousands of times (I did the math). I know how scary that can be and how much trust a parent places in the lab staff in these tough moments — both in the collection and the testing. I'm honoured to have that position now, and I absolutely love my job."
To make the in-hospital and in-lab experience a little brighter, Lori, an avid crocheter, keeps a stash of baby booties in her locker to give to grateful parents.
"If I can make someone's day a bit brighter, or their visit to the lab a bit easier, that gives me joy," Watt adds. "A few years ago, we had one little baby coming to the lab every few weeks for blood work. He would look at us and just start to cry. I made a pair of leather-soled, sheepskin-lined baby booties for him — and told his mom that we're hard on their little feet — so it was my gesture of goodwill to him. And that was the start of it."
Over the years, Lori has gifted more than 100 pairs of baby booties.
"It helps them not mind coming to the lab so much. I love when they show back up and the babies are wearing the booties I have made. That makes my day. It just spreads a little joy in a place most people wouldn't suspect there was any."