Every step of every improvement in healthcare relates to learning. Educational courses, seminars, teaching and mentoring—all form AHS' climate of continous learning, which in turn creates resourceful, resiliant healthcare professionals who, well, take charge
Lisa Barrett positively raves about the Charge Nurse 101 program developed and delivered by managers in Alberta Health Services (AHS) Central Zone to support professionals asked to take leadership responsibility.
Charge nurses are often moved into the role without enough support, she says.
"We haven't necessarily set them up for success," says Barrett, area manager, Wetaskiwin Hospital and Care Centre. "Charge Nurse 101 education is something we developed at a very grassroots level—it reflects the reality of being a charge nurse in a rural setting where you really are doing everything.
"You're a maternity nurse, an emergency nurse, a palliative care nurse, a wound nurse and you have to look after the staff scheduling and a boatload of other things."
The program—developed and delivered in conjunction with the AHS Learning & Development team—consists of a one-day Charge Nurse 101 course followed by six additional one-day modules.
"The feedback has been fantastic," Barrett says. "I had a lot of eye-rollers take the course, and they've all come back and said it's fantastic.
We are trying to create leaders who are resilient and resourceful, not overwhelmed or intimidated."
Heather Bell, a registered nurse at Rimbey Hospital and Care Centre, recently completed the program.
"I would highly recommend it," says Bell. "I have been in the role since January 2016 and the course helped me with the shift from daily care to working with all disciplines and co-ordinating discharge planning for patients.
"There are sections in the program that talk about dealing with difficult people, conflict and communicating effectively— those have been invaluable."
Barrett says she has noticed the individuals who have taken the program are able to deal at a local level with almost any challenge. "When I'm on call, I don't hear from the Charge Nurse 101 folks," she says. "We have given them the tools and empowered them to make site decisions, and they're doing it. It's so important to invest in our people; I want to set them up for success."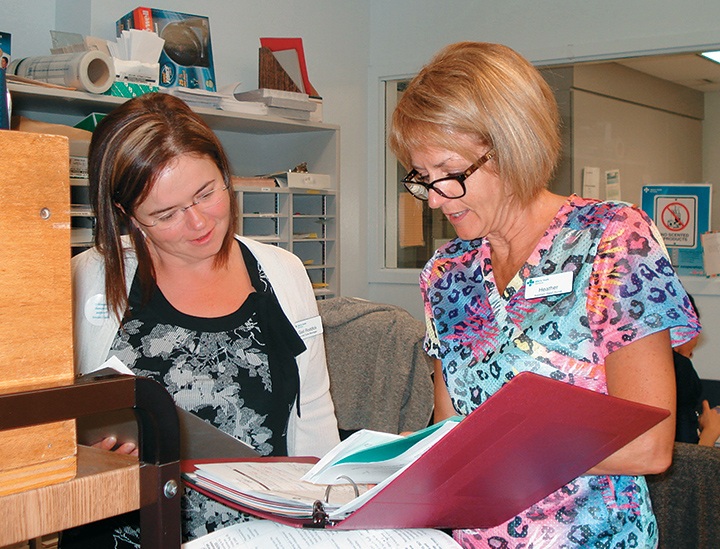 Our words
It can be overwhelming picking and using car seats and booster seats. We've done the research for parents so they can be confident current evidence is guiding the safe transportation of their children. We want every car ride to be as safe as possible, every time, for every child.
Nora Ansah, AHS health promotion facilitator with the Provincial Injury Prevention Program, on updating car seat and booster seat safety recommendations
Kirk never stopped learning ... He surrounded himself with advisors whose worldviews clashed with each other's and with his. He regularly went into the field to understand the challenges on the front lines.
Isabel Henderson, senior operating officer of Edmonton's Glenrose Rehabilitation Hospital—and recipient of the 2017 President's Excellence Award for Distinguished Service, on being inspired by Star Trek's Capt. James T. Kirk
We wanted to share tips and tricks on what sorts of foods our patients might need to modify to swallow safely, yet still make them tasty.
Kerry Adams, speech-language pathologist in the ALS Clinic at Kaye Edmonton Clinic, on creating a workshop that blended an information session with a friendly, hands-on culinary competition for patients with feeding and swallowing difficulties