Patient- and family-centred care is at the very core of everything we do at AHS. Healthcare, research, innovation—all revolve around that basic tenet. For one Calgary woman, that care made the difference between a wheelchair—and walking
When Paulette Slade stands tall and gingerly puts one foot after the other, her emotions well up—because her journey to walk again hasn't been an easy one.
In fact, it's been a long, hard slog for the 59-year-old Calgarian, who was bedridden in hospital for 18 months.
She's spent much of her life battling lupus, an autoimmune disease in which the body's natural defence system attacks healthy tissues. It causes inflammation and can severely damage organs if not kept in check by drug therapy.
"I've been fighting balance problems for years," she says. "If I stand, I fall."
What has turned the tide in the fight of her life are some Alberta Health Services (AHS) allies in her corner.
The retired social worker hadn't counted on the stubbornness and tenacity of her healthcare team on medicine unit 32 of Foothills Medical Centre in Calgary, who simply refused to throw in the towel on getting Slade vertical again.
"From the health team's perspective," says nurse clinician Lance Schill, "we've never given up on trying to give her the chance to recover and get out of the hospital and get home again."
Slade's progress was slow.
"We were able to get her up into her reclining chair when she came to us," says Schill. "We've now got her back on her feet again. We're determined as a team to give her the best chance possible."
And Marilyn Tkachuk, a service aide on Slade's unit, has seen their relationship blossom into a true friendship.
"Paulette is a fighter. She's come a long way since the first time I met her," says Tkachuk. "I immediately knew we could really connect. We talked all the time. And that's how we became close friends."
Slade's baby steps have added up to major strides.
"I'm walking five times a week, and I manage to walk about five metres, sometimes twice in a given day," she says. "It's just feels so freeing to move."
And she's quick to give credit where she feels it's due. "My team is fantastic. They're caring. They're loving. They're supportive. They're here when I need them. That's what's helped me get through this."
Our words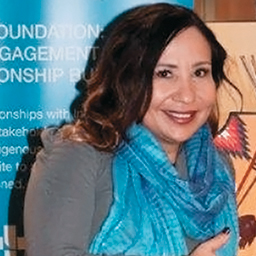 Offering accredited cultural competency training shows the significant value AHS places on Indigenous culture. It will hopefully encourage more staff and physicians to learn more about culturally appropriate care.
Chelsea Crowshoe, Indigenous Cultural Competency Education senior advisor
Sharing our stories can help bring our focus back to why we do what we do. It can take courage and vulnerability to share them but, in doing so, I'm reminded this is the very thing we ask of our patients and families when they enter our care facilities every day.
Deanna Picklyk, Director, Engagement and Patient Experience
I try to remind staff: 'You are the reason things run in the hospital. You make sure everything is ready for the patient, even though you're not in the room.'
Supervisor Raquel Nogueira, a member of the medical device reprocessing department team at University of Alberta Hospital in Edmonton
I'm just finishing a book called Everybody Matters: The Extraordinary Power of Caring for Your People Like Family, by Bob Chapman. If we treat everyone like family, we have the opportunity to shift culture and create an organization of even more engaged, loyal, creative and high-performing staff.
Darren Sandbeck, Chief Paramedic
Any time you don't have patient involvement, you lose sight of what you are doing. We can't define wellness for our clients—it's important they define it for themselves. Otherwise, we make assumptions that might be flawed and not beneficial.
Steven Panteluk, former unit manager for 8-1B at Alberta Hospital Edmonton