Advances in healthcare. Improving patient care. Research and innovation. All move forward thanks to the dedication and drive of the physicians, clinicians, staff and volunteers in AHS. And in this challenge, it's about winning
For the second time, front-line staff have enthusiastically endorsed the Alberta Health Services (AHS) Research Challenge, which supports care teams in tackling research projects aimed at improving patient care.
Teams selected in the 2017 Research Challenge have been notified they'll be receiving education in research practices, the support of an experienced research mentor and up to $5,000.
"I think this is such a great idea," says patient and family advisor Wendy Rowan, who served as a member of the panel that reviewed entries to the 2017 Research Challenge competition.
"What a great opportunity for people on the ground to have their voices heard and work on something they're interested in improving—it's fantastic."
Since it began in 2016, staff from 20-plus disciplines have submitted a total of 170 letters of intent to conduct research. Proposals came from across the province and the healthcare spectrum.
Some of the 12 projects selected in the 2017 competition include:
Physiotherapist identification of psychosocial factors for delayed recovery in low back pain.
Health texts from school nurses: will adolescents get the message?
The effectiveness of single-session cognitive behavioural therapy protocol for walk-in patients.
Is dynamic splinting still a requirement post-metacarpophalangeal joint arthroplasty?
Medical assistance in dying requests with mental health clients: mitigate or facilitate?
"As a learning organization, Alberta Health Services will continue to seek, generate and use knowledge. That's research," says Dr. Kathryn Todd, AHS vice president, Research, Innovation and Analytics and CSAMH. "And that's what the Research Challenge is all about."
The Research Challenge is directly aligned with three of the four AHS foundational strategies: the AHS Strategy for Clinical Health Research, Innovation and Analytics, Our People Strategy, and the Patient First Strategy.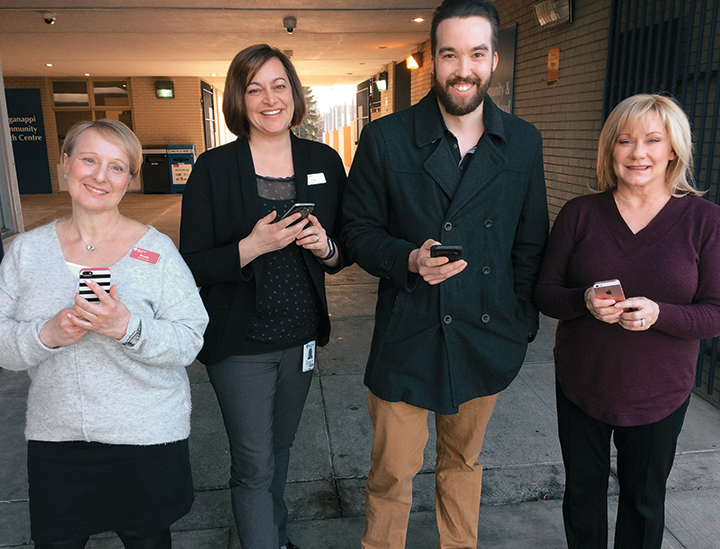 Our words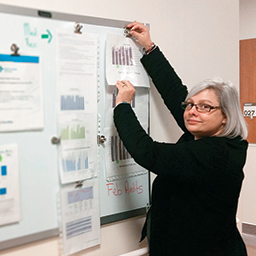 Simple things like comfort rounds, patient bedside whiteboards, or bedside shift reports would have created an atmosphere of empowerment and independence for my mother.
Aileen Alcock, right, Calgary CoACT team lead, whose experiences with her mother's hospitalization pushed her to help form CoACT, a program that is team winner for AHS President's Excellence Award for Outstanding Achievement in Patient- and Family-Centred Care
Addiction and mental health doesn't stop and think about time. And I didn't realize how much time ... had been lost to sorrow, pain and unhappiness. Now I have so much light and life—and I get to give back.
Pamela Spurvey, peer support worker with Young Adult & Cross Level Services, who's been in recovery for 10 years and was one of two winners of the True Award from The Lieutenant Governor's Circle on Mental Health and Addiction
Our research partners, clinicians and staff continue to generate and share innovative ideas every day to improve health outcomes.
Dr. Kathryn Todd, AHS vice president, Research, Innovation and Analytics and CSAMH, on AHS research hospitals in Edmonton and Calgary being placed 16th and 19th, respectively, in Canada's Top 40 Research Hospitals for 2016, as determined by the firm Research Infosource Inc