AHS is always finding new ways to recognize our people. Whether through company e-cards, secret Santa, or the highest awards in our organization—the President's Excellence Awards—we find ways to say, 'Thank you for everything you do'
It would be tempting to dismiss fecal microbiota transplant (FMT), which in the plainest terms is the transfer of one person's poop to another, as a fringy novelty procedure best avoided in polite conversation.
But the procedure, which can save people from potentially life-threatening clostridium difficile (C. diff) infections, has garnered Edmonton gastroenterologist Dr. Dina Kao and her FMT team an Alberta Health Services' (AHS) President's Excellence Award for Outstanding Achievement in Innovation and Research Excellence.
Since 2013, Kao and her team have helped more than 600 Albertans with these antibiotic-resistant infections regain their health. In the process, they've established Alberta as the national leader in bringing FMT to the mainstream.
With a 93 per cent cure rate for C. diff infections, FMT is not only improving the lives of patients, it's saving the healthcare system hundreds of thousands of dollars in related costs.
"There are so few things in medicine where you can say the cure rate is over 90 per cent," says Kao. "Working with FMT is without a doubt the most rewarding thing I've done in my professional career."
The idea behind FMT is to restore the healthy balance of bacteria living in the intestine. We are host to hundreds of different species of gut bacteria, which together help the digestive and immune systems to function properly.
However, when a harmful infection requires treatment with antibiotics, those same antibiotics can disrupt the healthy balance of the gut bacteria, thus allowing opportunistic microorganisms like C. diff to move in and cause illness.
That's what happened to 28-year-old Carly Hallam who, in June 2017, underwent an FMT performed by Kao.
"Dr. Kao is my hero and will be for the rest of my life," Hallam says. "I had lost all hope but she has given me my life back." People with C. diff infections suffer from diarrhea, cramping and other gastrointestinal difficulties. And in the roughly 200 cases of C. diff seen in Alberta every year, about 20 to 40 are fatal.
Our words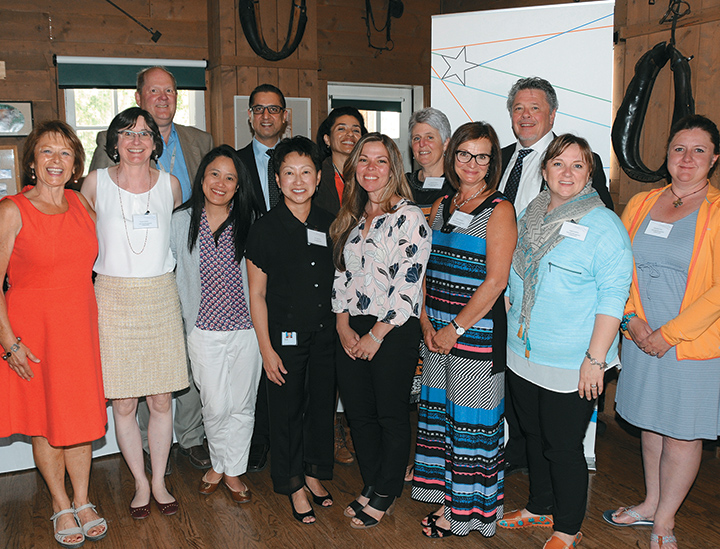 Picture this: I'm a 65-year-old person on medications that affect my balance ... I suddenly get up to go the washroom—and I lose my balance and fall. To prevent that, so many things have to go right ... which led us to starting the Falls Risk Management Collaborative.
Anurag Pandey, Process Improvement, on the Falls Risk Management Collaborative
We all work hard all year and we wanted to find a way to celebrate that work, but also celebrate each other as members of the AHS family. There's nothing quite like receiving a card in the mail, tearing open the envelope, opening the card and reading a personal message of thanks, written by a real person.
Colleen Turner AHS Vice President, Community Engagement and Communications, on the Secret Santa holiday campaign
I think that it's great that we have the opportunity to contribute our own photos to the cards. I find it more meaningful to use and receive something that another staff member has contributed.
Lee Fredeen-Kohlert, patient concerns consultant at the Wetaskiwin Community Health Centre, who participated in the annual SPIRIT photography contest