Innovation and research is constantly changing the field of healthcare. And it's up to the professionals delivering that care to adapt to those changes. Here, a flight-simulation trailer helps these pros hone their skills from the ground up
The air ambulance team of Alberta Health Services (AHS) has come up with a novel, down-to-earth way to perfect their skills.
In fact, they never leave the ground on Canada's first mobile flight simulation trailer—developed in-house by AHS and partners—and unveiled last June by Emergency Medical Services (EMS).
The flight simulation trailer features the fuselage of a King Air 200 aircraft mounted on hydraulics to simulate takeoff and landing. The simulator complements existing training and gives trainees hands-on learning with the delivery of patient care as well as the placement of supplies and equipment on an air ambulance aircraft.
"Medics are already trained when they come in," says Brent Thorkelson, EMS staff development officer and project lead, "but we're providing them with simulations that are evidence-based."
Based at Edmonton International Airport, the flight simulation trailer will travel across Alberta to train EMS air ambulance paramedics, as well as partners in ground ambulance, hospital-based teams, post-secondary institutions and other healthcare professionals.
There are 10 air ambulance bases and about 225 AHS air ambulance paramedics across the province.
"There weren't any other examples of mobile simulation units that use an actual aircraft fuselage, so it was up to our team to determine how to make it work," says Thorkelson.
"Fitting an aircraft with simulation equipment into a trailer and making it mobile was a unique process."
A fully-equipped King Air 200, which replicates Alberta's fixed-wing air ambulances, was donated by Lakeland College. The simulator's design was developed by the Learning & Development team of AHS EMS in collaboration with AHS air ambulance and AHS partners.
"We're committed to ensuring all Albertans have access to high-quality air ambulance care," says EMS chief paramedic Darren Sandbeck.
"Simulation training enables learners to practise and master individual and team skills. lt's a benefit to our patients to have well-rehearsed teams delivering care."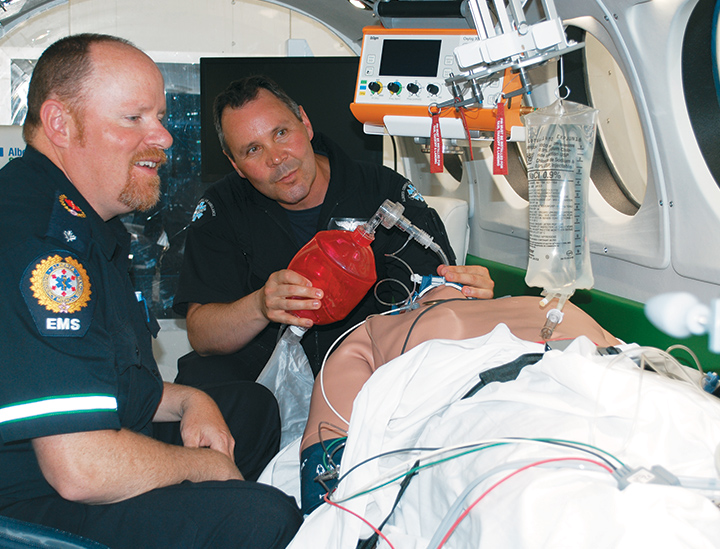 Our words
Why are we poking someone when their condition is stable? Doing random pokes, for really no reason, meant longer waits to get the stats for the people for whom we needed the results. We've freed up many hours for the lab to be able to provide better services for when we actually need them.
Tenille Wren, medicine program unit manager at Edmonton's Royal Alexandra Hospital, on helping to devise a sticker that alerts the lab on when not to draw blood, saving up to 45 days of lab time a year
We've heard about the frustration of getting interrupted while applying for a job and then having to start from the beginning. In the new Recruitment Management System, candidates are able to save their progress and continue applying later.
Jerri-Lynn Misiak, senior program director, HR Shared Services, on upgrades to the Recruitment Management System
We want to ensure the public has access to the most current information available to better manage and maintain their health—and Amazon Alexa is a creative new way AHS can achieve this.
Kass Rafih, executive director, AHS Online and Creative Services, on the Alexa Skill and Google Home that, where available, will answer phrases or questions, including real-time estimated emergency department wait times, as well as provide up-to-date AHS news
When caring for patients in the paper world, clinicians use a variety of shortcuts or abbreviations that can make records inconsistent. In an IT system, we need to use a consistent language. My kids say I'm an IT nurse.
Chris Malo, a former registered nurse with home care and seniors health, now clinical information business lead for Central Zone, on going paperless and helping create the Central Zone e-Health team