Keeping Albertans healthy is more than just delivering healthcare and advice to patients. It's also about bettering the health of every person who works at AHS. And so we're toasting the Alberta Children's Hospital, which has shown sugary drinks the door
We've all heard how nutrition influences a healthy lifestyle—but there's no substitute for taking positive action. To this end, a new selection of healthier drink options has been introduced at Alberta Children's Hospital (ACH) in Calgary.
In January, 23 healthier beverages replaced the same number of sugar-sweetened drinks in the cafeteria and vending machines throughout ACH.
"Sugar-sweetened beverages do not offer any nutritional value and are linked to a higher risk of serious health conditions including heart disease, hypertension, dental problems and diabetes," says Carole Micholuk, executive director of Nutrition and Food Services for Calgary Zone. "This new roster of healthier drinks will provide a satisfying alternative to sugar-sweetened beverages."
New options include bottled water, natural-flavoured seltzers and smaller portions of unsweetened fruit juices.
Peter Glanville is the father of two-year-old Eddie, an inpatient at ACH, and his six-year-old brother Luke. Glanville says he feels that having fewer sugar-sweetened beverages, especially at a facility like a children's hospital, promotes health and wellness and encourages children to choose healthier options.
"It's more difficult to expect my children to choose something healthy for themselves when the sugary drinks are so easily available," he says. "My children's health is important to me, and these healthier options encourage them to make better choices."
Suzanne Libbey, a project manager at ACH, says she agrees the new drink selection is a great idea.
"I'm more likely to make a good choice if a healthier option is available to me," she says.
During the Alberta Health Services (AHS) 2016 Wellness Survey, 71 per cent of respondents in the Calgary Zone indicated they would prefer that the majority of food and beverages offered at AHS facilities be healthy choices.
According to Micholuk: "Refreshing the beverage options at ACH is a small but impactful way to lead Albertans towards greater health and well-being."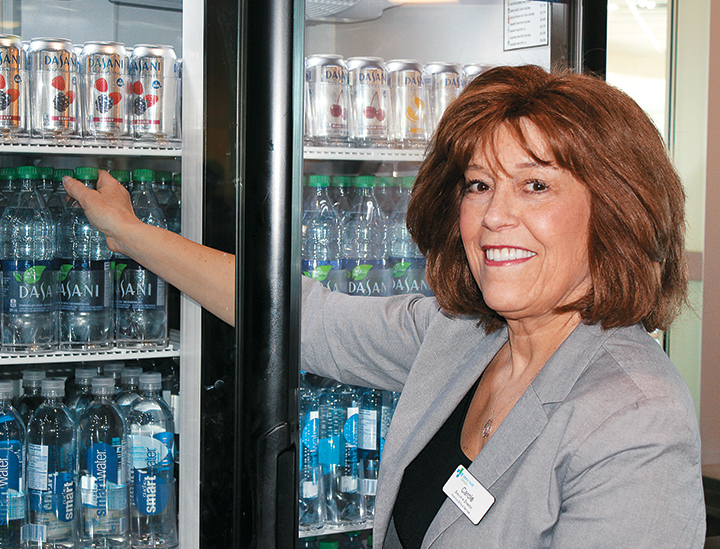 Our words
I've dealt with chronic depression for 20 years, so I'm very concerned about taking care of my mental health. By volunteering, I'm helping out the dogs. I'm helping out the community. And I'm helping myself.
Cheryl Katterhagen, senior consultant, Medical Affairs on her pledge for Change Day 2016 to walk dogs at the Calgary Humane Society
One of my first jobs in healthcare was working in chronic disease management. Looking at all the numbers and seeing the harm chronic disease causes, I really wanted to avoid that for myself and focus on what's within my control. So fitness has been a big part of my life for almost 20 years.
Tom Briggs, senior program officer, Planning and Performance
When we engage in recreation, we can find purpose and a chance to enjoy life in a meaningful way. With the support of recreation programs and community services, we can provide these opportunities to others.
Recreation therapist Sherianna Duiker on the first Community Recreation Expo, at Alberta Hospital Edmonton