CapitalCare Norwood Expansion – Spring 2019 Update
The CapitalCare Norwood Re-development project is continuing to move forward. A parking area used by Norwood staff has been shut down to make way for construction. Staff are now parking at Kingsway Mall. You should notice reduced vehicular traffic along 112 Avenue and more foot traffic during day and evening hours.
Next steps for the project include the start of excavation and piling which will take place throughout the summer. Special measures will be taken to reduce construction noise, dust and vibration from interfering with health care operations, resident, patient and our neighbours' comfort. If you have any questions or concerns please call the Infrastructure Enquiry Line at 780-415-0507 or email infra.contact.us.m@gov.ab.ca.
Street Closure Notice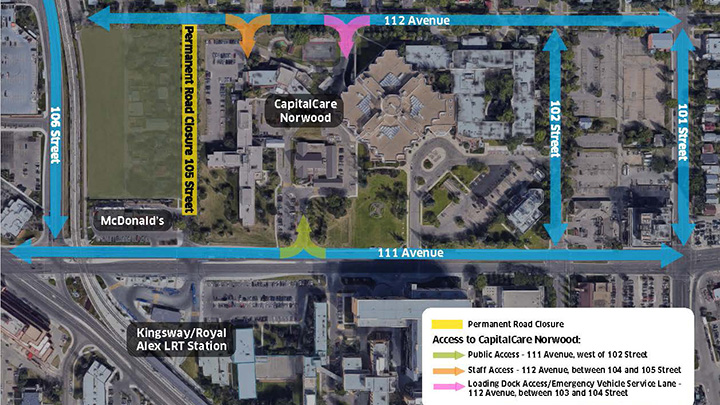 The road and sidewalks from 105 Street north of McDonald's to 112 Avenue are now permanently closed. Fencing and barriers have been installed closing off the sidewalks, laneways and 105th street.
Alberta Health Services, the Government of Alberta and CapitalCare apologize for any inconvenience but the closure is required so preparations for construction on the CapitalCare Norwood Redevelopment project can begin.
In December 2018, the City of Edmonton approved the rezoning and the road and sidewalk closure, as the present CapitalCare Norwood site, was too small to accommodate the planned redevelopment.
The Public Use trail east of the 106 Street between 111 Avenue and 112 Avenue will remain open. The 105 Street entrance to McDonald's will not be impacted.
Starting May 1, staff will have to access the CapitalCare Norwood parking lot by 112 Avenue.
In the coming weeks before construction gets underway a lot of initial activity will take place on site including:
Putting up construction fencing;
Setting up site logistics like trade trailers, and temporary utilities and site roadways will need;
Establishing a laydown area for construction materials; and
Bringing in construction equipment and cranes.
If you have any questions or want to pass along comments please call the Infrastructure Enquiry Line at 780-415-0507 or e-mail infra.contact.us.m@gov.ab.ca.
Funding
$ 364 Million
Highlights
The new 40,000 square metres re-development project expansion at CapitalCare Norwood will help with the growing need in the Edmonton area for continuing care capacity including complex and post-acute care.
It will improve the operation of the acute care and continuing care systems in Edmonton by reducing the demand for emergency department visits, inpatient acute care services, and reducing continuing care placement.
It will provide a new modern facility that meets current standards and needs.
Community services to be provided in the new expansion:
Specialty dental clinic
Community paramedic program
CHOICE – day program to keep seniors healthy and at home
Hemodialysis
Pulmonary rehabilitation
Respiratory outreach and respiratory benefits program
Facilities to support continuing care education and research
Open House Documents
Developed by
Alberta Infrastructure (Clark Builders - construction managers)
Owned by
Alberta Health Services
Operated by
CapitalCare